The 1967–68 Boston Bruins season was the Bruins' 44th season in the NHL. The Bruins finished 3rd in the newly created East Division, made the playoffs for the first time in eight seasons and lost in the Quarter-finals to the Montreal Canadiens 4 games to 0.
Off-season
[
]
Boston Garden
[
]
A new score clock was installed above center ice at the Boston Garden during the summer of 1967. The clock faces were replaced with digital numbers for the game and penalty times.
Trades
[
]
Assistant GM Milt Schmidt engineered a trade with the Chicago Black Hawks that would see Boston give up their top goal scorer of the 1966-67 season, Pit Martin, tough defenseman Gilles Marotte and minor league goalie Jack Norris for Phil Esposito, Ken Hodge and Fred Stanfield. GM Hap Emms advised against the trade but it went through on May 15, 1967 after Bruins President Weston Adams Jr. approved it.
At the time, the trade was mainly seen as a swap of two goal scorers, Martin and Esposito and the hockey press felt that Chicago had gotten the better of Boston in the trade. Esposito and Chicago coach Billy Reay did not see eye-to-eye, he was seen as too slow and soft to anchor the Hawks second line and was blamed for the loss in the Semi-finals to the Toronto Maple Leafs. Martin was projected as a faster, tougher replacement.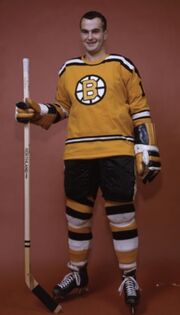 Stanfield had played parts of three seasons for Chicago and had a high of 7 goals in the 1964-65 season. With the 1967 NHL Expansion Draft upcoming in June, the Hawks expected to lose Stanfield in the first round of picks and didn't plan to protect him. After two years in Chicago, Hodge was viewed as not able to translate his junior scoring success into NHL play and had scored 10 goals the previous year. He was also not on the Hawks protected player list.
Marotte had finished third in Calder Memorial Trophy voting, was an excellent skater and was projected as having plenty of up-side. The Bruins were concerned about his defensive game due to his -41 plus/minus rating the previous year. With Bobby Orr, Ted Green, Don Awrey and Gary Doak, Schmidt believed that Boston had the defensive depth to cover the loss of Marotte. Norris had played part of a season three years before for the Bruins but was buried behind Eddie Johnston, Gerry Cheevers, Bernie Parent and Doug Favell in the Bruins goaltending talent.
The same day, the Bruins sent Murray Oliver to the Toronto Maple Leafs for energetic Eddie Shack. Oliver had played on the top line with John Bucyk throughout the 1960's and was Boston's top scorer of the decade after Bucyk. He'd had a disappointing campaign the year before and Esposito would be replacing him on the top line. With Red Kelly retiring, Oliver was viewed as his replacement for the Leafs.
Lastly, the Bruins and Hap Emms agreed to him returning to manage the Niagara Falls Flyers. He was replaced as general manager by Milt Schmidt.
Expansion Draft
[
]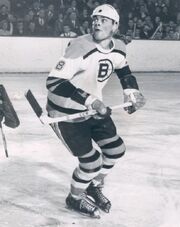 The 1967 NHL Expansion Draft was held on June 6, 1967 to fill the rosters of the league's six expansion teams for the 1967–68 season. Teams were allowed to protect one goaltender and eleven skaters. The first two rounds involved selecting goaltenders. Once a goalie was picked, teams could protect another goalie. The Bruins protected Gerry Cheevers and the Philadelphia Flyers picked Bernie Parent. The Bruins then protected Eddie Johnston and the Flyers picked Doug Favell.
The next 18 rounds involved selecting skaters. The Bruins protected John Bucyk, Ted Green, Ed Westfall, Tom Williams, John McKenzie, Gary Doak, Don Awrey, Ken Hodge, Phil Esposito, Eddie Shack and Fred Stanfield. Rules did not require teams to protect junior eligible players such as Bobby Orr and Derek Sanderson. As with the goalies, once a skater was selected, a team could protect another skater.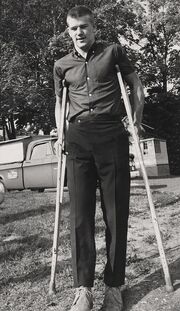 The Bruins lost (in order) Joe Watson, Bob Woytowich, Ron Schock, Wayne Connelly, Terry Crisp, Ted Irvine, Wayne Rivers, Bob Dillabough, Dick Cherry, Bill Goldsworthy, J. P. Parisé, Ron Harris, Jeannot Gilbert, Gary Dornhoefer, Forbes Kennedy, Ron Stewart and Keith Wright. Of interest is that nearly all the skaters selected by the Flyers would be part of the team that would defeat the Bruins in the 1974 Stanley Cup Finals, including Watson, Crisp, Dornhoefer and Bernie Parent.
The Bruins were able to protect (in order) Dallas Smith, Skip Krake, Ron Buchanan, Wayne Cashman, Jean Pronovost, Bob Heaney, Ron Murphy, John Arbour, Glen Sather, Dave Woodley, Brian Bradley, Ted Snell, Wayne Maxner and Bob Leiter. Smith and Cashman would be important players in the Bruins Stanley Cup wins in the 1970's.
While playing in an August 1967 charity game in Winnipeg, Manitoba to raise funds for the Manitoba Hockey Players Benevolent Association, Bobby Orr hurt his right knee. Surgery was not required but Orr wore a cast for five weeks. The knee healed in time for the regular season and Orr never had trouble with the right knee again.
Pre-season
[
]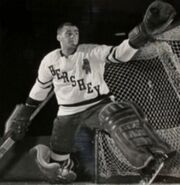 September 15, 1967: Toronto Maple Leafs 6, Boston 4 @ London, Ontario
September 17, 1967: New York Rangers 7, Boston 0 @ London, Ontario
September 19, 1967: Boston 9, New York Rangers 3 @ London, Ontario
September 22, 1967: Toronto Maple Leafs 4, Boston 2 @ Peterborough, Ontario
October 3, 1967: @ Boston 2, New York Rangers 1 - the Bruins introduced their new black jerseys and Bobby Orr played his first game of the pre-season.
October 6, 1967: @ Boston 2, Montreal Canadiens 1
The Bruins finished the exhibition season with a 5-5-0 record. On October 7, 1967, they played a benefit game for goalie Claude Dufour against the Hershey Bears, whose career was ended by an eye injury. Boston won the game, played in Hershey, 7-3.
Regular Season
[
]
1967
[
]
The Bruins overhauled their uniforms, retiring the gold jersey introduced in 1955. After a two season hiatus, the black jersey was re-introduced but with thinner body and arm stripes. The white jersey remained but also had thinner body and arm stripes. Predominately white socks were introduced for the first time since 1934 and worn with both the white and black jerseys. Lastly, the black pants introduced in 1939, had the gold stripes removed, leaving a solid white stripe.
New GM Milt Schmidt decided that instead of a team captain, that John Bucyk, Phil Esposito and Ted Green would share the duties. Three rookies made the team out of training camp, Glen Sather, Skip Krake and Derek Sanderson. They often played together and saw penalty-killing duty with Ed Westfall. Gerry Cheevers started wearing a mask for the first time, but there were no stitches on it yet.[1]
The Bruins had an explosive start to the season. They tied the Detroit Red Wings 4-4 in the home opener, in which Bobby Orr knocked Wings goalie Roger Crozier unconscious with a shot to the head. They then crushed the Montreal Canadiens by a 6-2 score on October 15, 1967. Phil Esposito had a 4 goal game, Fred Stanfield had 4 assists and Glen Sather potted his first NHL goal. However, veteran Ron Murphy was lost for 60 games with a torn bicep muscle. Esposito, who killed penalties, played with Ken Hodge and Tom Williams, while Stanfield centered John Bucyk and John McKenzie.
On October 18, Boston played Chicago in a statement game for those that had been traded. Stanfield scored twice, Hodge once and Esposito had an assist. None of those traded to Chicago had a point as the Bruins thumped the Black Hawks 7-1. As the month continued, the Bruins kept getting scoring from all forward lines, defense and goaltending were excellent as Boston had their best October since the 1947-48 season, finishing 5-1-1. Gerry Cheevers played every game in October and after a 2-0 shutout of the Los Angeles Kings on October 26, 1967, coach Harry Sinden pronounced him the number one goalie. Stanfield and McKenzie were one point out of the league scoring lead while McKenzie led the league in assists with 10.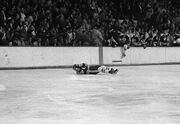 The November 5, 1967 match versus Toronto saw a bench clearing brawl at 5:28 of the second period. With the Bruins leading 1-0 on an Orr Power play goal, Leafs Brian Conacher was killing a penalty and dumped the puck into the Bruins zone as Orr approached him. Conacher's stick came up and broke Orr's nose. John McKenzie starting pummelling Conacher, who fell to the ice. Orr then joined in on beating Conacher, which resulted in the Leafs bench clearing, followed by the Bruins. It was the first bench clearing brawl in the league since December 6, 1963. The game ended in a 2-2 tie. Two games later on November 11, 1967, despite his broken nose, Orr fought Bill Hicke in the Bruins 2-1 win over the Oakland Seals and his nose was broken again.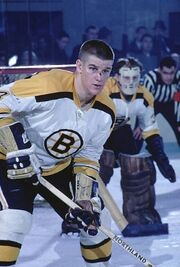 Toronto won the rematch on November 15, 1967 by 4-2 in an off game for Cheevers in which he was pulled. Eddie Johnston started the remaining games in the month including November 19 in Boston, where the Bruins rained 30 shots on the Leafs Johnny Bower in just over half the game. With the score 3-1 for the Bruins, Leafs coach Punch Imlach pulled Bower. Heading to the bench, he received an ovation from the opposition fans. The Bruins easily won 6-2 and outshot the Leafs 56-23. John McKenzie had his first NHL Hat trick during the 7-5 win over the Detroit Red Wings on November 26, 1967. The 5-1 win on November 29, 1967 over the Minnesota North Stars was Boston's eighth win of the month and resulted in them taking over first place in the East Division.
John Bucyk scored twice during the 4-4 tie with Chicago on December 2, 1967, giving him 231 goals as a Bruin, passing Milt Schmidt for the most all-time. He also took over the lead in the scoring race with linemates Stanfield and McKenzie tied for second. Showing they were no longer push-overs, the Bruins had been involved in a number of melees so far in the season. The December 3, 1967 game versus Montreal saw multiple fights, a bench clearing brawl and game misconducts to the Habs Jacques Laperriere, Dick Duff and the Bruins Don Awrey. Nearly 140 minutes in penalties were called in total as the Boston triumphed 5-3. Bucyk had another pair of goals during the 3-1 win over the Rangers on December 7 giving him 577 points as a Bruin, passing Schmidt.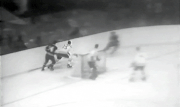 Disaster struck during the December 9, 1967 game versus the Maple Leafs in Toronto. In the first period while killing a penalty to Skip Krake, Bobby Orr began to carry the puck from in front of the Bruins net. He was hit with a clean check by Frank Mahovlich which broke his left collarbone. Amazingly, Orr played another penalty-killing shift before leaving the game. Later, a Mahovlich slap shot hit Ted Green above the knee and he was forced to leave the game. Green's injury caused him to miss only two games but Orr was out until Christmas. Barry Gibbs, first overall pick in the 1966 NHL Amateur Draft, was recalled and played his first NHL game during the 3-1 loss to Los Angeles on December 10, 1967. He was sent back down once Green returned.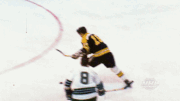 During practice on December 19, 1967, goalie Ed Johnston broke a finger and Gerry Cheevers suffered a minor shoulder injury in the 6-3 loss to Chicago on December 20. This resulted in the call-up of Andre Gill from the Hershey Bears and Wayne Doll from the Long Island Ducks. Gill was brilliant in his NHL debut, making 41 saves and earning a shutout in a 4-0 win over the Rangers on December 23, 1967. Christmas was good to the Bruins as both Ron Murphy and Orr returned to the line-up. However, their opponent, the Oakland Seals, weren't in a festive mood. Late in the third period with the Bruins leading 6-3, multiple fights broke out. Seals coach Bert Olmstead jumped on the ice to intervene and was ejected from the game.
December 27, 1967 saw Chicago visit Boston for a signature match between the league's top two teams. After the Black Hawks Doug Mohns scored early on the power play, the Bruins first line took over. Phil Esposito scored his 13th of the season before Ed Westfall put the Bruins ahead 2-1. Tom Williams and Esposito then scored less than 20 seconds apart and Boston carried a 4-1 lead into the second period. Eddie Shack scored a pair causing Denis DeJordy to be pulled from the Black Hawks net in favour of Dave Dryden. Although Dryden fared better, Esposito completed his hat trick on a goal assisted by Bobby Orr. Chicago added one in the third period but Andre Gill held the fort as the Bruins won 7-2.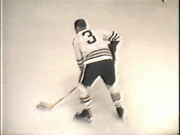 Gill had his first NHL loss on December 30 in Minnesota as he was out-dueled by Cesare Maniago and Parker MacDonald scored late for a 5-4 North Stars win. New Years Eve saw the Bruins lose 6-4 to Detroit as Eddie Johnston returned to the line-up. However, he was pulled in the second period after allowing three straight goals and Gill replaced him. The Bruins came close, making it 5-4 on Derek Sanderson's 13th of the season and pulled Gill for an extra attacker but Norm Ullman scored an empty net goal for the win. The Bruins finished 1967 tied for first place in the East Division and the league with Chicago.
1968
[
]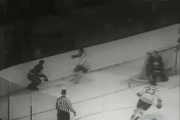 Andre Gill was sent back to Hershey, after going 3-2-0, and wouldn't play in the NHL again. Despite a broken finger, Ed Johnston played in the 5-5 tie on January 3, 1968 versus the Rangers, wearing a cast on his right hand. Gerry Cheevers returned to action for the 3-3 tie versus Toronto on January 6, where Orr scored the tying goal, and for the 4-2 loss to Chicago on January 7 where he let in the 400th goal of Bobby Hull's career. Cheevers was also hit between the eyes on a shot that deflected off Fred Stanfield's stick. This may have been the beginning of the mask stitches. Late in the game, having been pulled for an extra attacker, Cheevers and Eddie Shack hooked Hull from the bench but it wasn't enough to stop him from scoring into the empty net. Fred Stanfield had an assist, in which he continued to lead the league, and was third in scoring. Ron Murphy's shoulder was injured in this game, required surgery and he was lost for several months.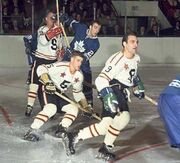 The 21st National Hockey League All-Star Game was held at Toronto on January 16, 1968. It was the last time that the Stanley Cup champions would play a team of All Stars and included two Bruins, John Bucyk and Bobby Orr, playing in his first All Star game. The Maple Leafs prevailed 4-3 with Orr assisting on the All Stars' third goal. He wore jersey #5 (Jean Béliveau wore #4) and again suffered a shoulder injury by a Frank Mahovlich check. This caused Orr to miss the next four games. Without Orr, the Bruins went 2-2 which included a 4-2 win over Philadelphia on January 20 and a 6-0 win over Chicago on January 21, 1968. In this game, ex-Bruin Doug Mohns initiated a stick swinging incident with Ted Green. Stan Mikita, Kenny Wharram and Mohns had all begun wearing helmets in the wake of the death of Bill Masterton and played on the same line. Mohns' helmet saved him from serious injury as Green's stick made contact with his head. Both were given game misconducts but no suspensions.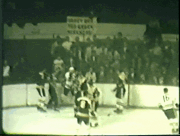 Orr returned for the 2-0 loss to Montreal on January 25 but the Bruins also lost the return match of the home and home series and then the Penguins squeaked out a 1-0 win against them to end the month. An article in the Boston Globe on January 26 first mentioned Gerry Cheevers putting stitches on his mask. It indicated that he had 14 by that time. The mask used was not the same design as the one that would become famous, it was squarer with several vent holes. By the end of the month, Boston was in a three-way tie for second place in the East Division. Phil Esposito was third in the scoring race with 50 points, 4 back of leader Stan Mikita.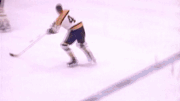 During the 6-4 win over the St. Louis Blues on February 7, 1968, John McKenzie looked to have scored in the third period to make it 5-4 Boston. Play continued and the Blues Al Arbour scored. Coach Harry Sinden jumped over the boards and along with Bruins players, protested. Consultation with the linesmen resulted in McKenzie's goal counting and Arbour's being disallowed. Bobby Orr played sparingly in this game. Orr played even less during the 1-1 tie with Detroit on February 10. Experiencing problems with his left knee locking up, he had surgery for torn cartilage and was expected to miss five weeks. Barry Gibbs was recalled from the Oklahoma City Blazers.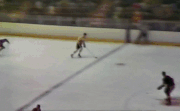 The Bruins struggled through mid-February, tying St. Louis and then heading on a road trip where they lost to Chicago and Oakland. On February 18 in Los Angeles, John Bucyk scored his 250th career goal while a goal and three assists by Phil Esposito snapped Boston's four game winless streak as the Bruins won 6-5 with Glen Sather scoring the winner with less than two minutes left in the game. During the 3-2 win over Detroit on February 22, 1968, Tom Williams suffered a bruised kidney during a brawl. Wayne Cashman was recalled and played well enough to stick with the team, even after Williams returned three games later.
On March 1, 1968, a portion of the roof of the Philadelphia Spectrum blew off. The Flyers were forced to play "home" games in other arenas while repairs were affected. On March 7, 1968, the Bruins played the Flyers at Maple Leaf Gardens in Toronto. At 9:33 of the first period, Eddie Shack and Larry Zeidel collided. In a grudge going back 10 years, Zeidel swung his stick twice at Shack, hitting his shoulder and then his head. Shack retaliated, resulting in both players suffering head injuries and bleeding profusely. Both were given game misconducts. Zeidel then rushed the Bruins bench and later claimed that insults about him being Jewish was the cause. Later, while Shack was being stitched up, Zeidel tried to attack him in the infirmary. The Bruins triumphed 2-1 for their fifth consecutive win. NHL President Clarence Campbell viewed game footage and declared Zeidel the instigator and suspended him for 4 games while Shack received 3.
Bobby Orr returned for the March 24, 1968 game versus Detroit. The Bruins went 10-6-1 without Orr in the line-up due to the excellent netminding of Gerry Cheevers (who played nearly all games during Orr's absence) and continued high scoring, including an 8-0 whitewash of Chicago on March 21. Orr wasn't back to form, making few of his trademarks rushes and was held scoreless for the rest of the regular season. John Bucyk Night was held at the Boston Garden on March 28, 1968 to celebrate his accomplishments with the Bruins including passing Milt Schmidt to become the team's all-time leading scorer.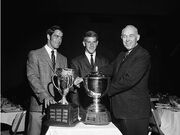 The Bruins were easily the league's most improved team, scoring a league high 259 goals, a 77 goal improvement. Goals against was down by 37 goals. Phil Esposito finished second in league scoring with 84 points, 3 points behind Stan Mikita, and was voted a Second Team All-Star. John Bucyk finished ninth in league scoring and was also voted to the Second Team. Derek Sanderson won the Calder Memorial Trophy as rookie of the year. Despite missing 28 games, Bobby Orr won his first James Norris Memorial Trophy as the league's best defenseman and was voted to the First All-Star Team. It had been 25 years since the Bruins had a First Team All-Star, going back to Fleming Mackell in 1953. Most importantly, Boston made the playoffs for the first time in eight years and faced Montreal in the Quarter-finals.
Final Standings
[
]
Note: W = Wins, L = Losses, T = Ties, GF = Goals For, GA = Goals Against, Pts = Points
Teams that qualified for the playoffs are highlighted in bold.
Game Log
[
]
Regular Season Results
No.
R
Date
Score
Opponent
Record
1
T
October 11, 1967
4–4
Detroit Red Wings (1967–68)
0–0–1
2
W
October 15, 1967
6–2
Montreal Canadiens (1967–68)
1–0–1
3
W
October 18, 1967
7–1
@ Chicago Black Hawks (1967–68)
2–0–1
4
W
October 19, 1967
6–3
@ Detroit Red Wings (1967–68)
3–0–1
5
L
October 21, 1967
2–4
@ Montreal Canadiens (1967–68)
3–1–1
6
W
October 26, 1967
2–0
Los Angeles Kings (1967–68)
4–1–1
7
W
October 29, 1967
4–2
Pittsburgh Penguins (1967–68)
5–1–1
8
L
November 1, 1967
1–5
@ St. Louis Blues (1967–68)
5–2–1
9
T
November 5, 1967
2–2
Toronto Maple Leafs (1967–68)
5–2–2
10
W
November 8, 1967
6–3
@ New York Rangers (1967–68)
6–2–2
11
W
November 11, 1967
2–1
Oakland Seals (1967–68)
7–2–2
12
L
November 12, 1967
2–4
Philadelphia Flyers (1967–68)
7–3–2
13
L
November 15, 1967
2–4
@ Toronto Maple Leafs (1967–68)
7–4–2
14
W
November 18, 1967
3–1
New York Rangers (1967–68)
8–4–2
15
W
November 19, 1967
6–2
Toronto Maple Leafs (1967–68)
9–4–2
16
L
November 22, 1967
1–4
@ Pittsburgh Penguins (1967–68)
9–5–2
17
W
November 23, 1967
4–2
New York Rangers (1967–68)
10–5–2
18
W
November 25, 1967
3–1
@ Montreal Canadiens (1967–68)
11–5–2
19
W
November 26, 1967
7–5
Detroit Red Wings (1967–68)
12–5–2
20
W
November 29, 1967
5–1
Minnesota North Stars (1967–68)
13–5–2
21
T
December 2, 1967
4–4
Chicago Black Hawks (1967–68)
13–5–3
22
W
December 3, 1967
5–3
Montreal Canadiens (1967–68)
14–5–3
23
W
December 7, 1967
3–1
New York Rangers (1967–68)
15–5–3
24
T
December 9, 1967
3–3
@ Toronto Maple Leafs (1967–68)
15–5–4
25
L
December 10, 1967
1–3
Los Angeles Kings (1967–68)
15–6–4
26
L
December 13, 1967
2–6
Montreal Canadiens (1967–68)
15–7–4
27
L
December 15, 1967
1–4
@ Oakland Seals (1967–68)
15–8–4
28
W
December 16, 1967
5–2
@ Los Angeles Kings (1967–68)
16–8–4
29
L
December 20, 1967
3–6
@ Chicago Black Hawks (1967–68)
16–9–4
30
W
December 23, 1967
4–0
@ New York Rangers (1967–68)
17–9–4
31
W
December 25, 1967
6–3
Oakland Seals (1967–68)
18–9–4
32
W
December 27, 1967
7–2
Chicago Black Hawks (1967–68)
19–9–4
33
L
December 30, 1967
4–5
@ Minnesota North Stars (1967–68)
19–10–4
34
L
December 31, 1967
4–6
@ Detroit Red Wings (1967–68)
19–11–4
35
T
January 3, 1968
5–5
@ New York Rangers (1967–68)
19–11–5
36
W
January 4, 1968
3–2
@ Philadelphia Flyers (1967–68)
20–11–5
37
T
January 6, 1968
3–3
@ Toronto Maple Leafs (1967–68)
20–11–6
38
L
January 7, 1968
2–4
@ Chicago Black Hawks (1967–68)
20–12–6
39
W
January 11, 1968
5–4
Detroit Red Wings (1967–68)
21–12–6
40
L
January 13, 1968
1–5
@ Montreal Canadiens (1967–68)
21–13–6
41
W
January 14, 1968
9–2
Minnesota North Stars (1967–68)
22–13–6
42
L
January 18, 1968
2–4
Toronto Maple Leafs (1967–68)
22–14–6
43
W
January 20, 1968
4–2
Philadelphia Flyers (1967–68)
23–14–6
44
W
January 21, 1968
6–0
Chicago Black Hawks (1967–68)
24–14–6
45
L
January 24, 1968
1–2
@ New York Rangers (1967–68)
24–15–6
46
L
January 25, 1968
0–2
Montreal Canadiens (1967–68)
24–16–6
47
L
January 27, 1968
2–5
@ Montreal Canadiens (1967–68)
24–17–6
48
L
January 28, 1968
0–1
Pittsburgh Penguins (1967–68)
24–18–6
49
T
February 1, 1968
4–4
Chicago Black Hawks (1967–68)
24–18–7
50
T
February 3, 1968
3–3
New York Rangers (1967–68)
24–18–8
51
W
February 4, 1968
5–4
Detroit Red Wings (1967–68)
25–18–8
52
W
February 7, 1968
6–4
@ St. Louis Blues (1967–68)
26–18–8
53
T
February 10, 1968
1–1
@ Detroit Red Wings (1967–68)
26–18–9
54
T
February 11, 1968
3–3
St. Louis Blues (1967–68)
26–18–10
55
L
February 14, 1968
1–3
@ Chicago Black Hawks (1967–68)
26–19–10
56
L
February 17, 1968
1–3
@ Oakland Seals (1967–68)
26–20–10
57
W
February 18, 1968
6–5
@ Los Angeles Kings (1967–68)
27–20–10
58
L
February 21, 1968
3–5
@ Minnesota North Stars (1967–68)
27–21–10
59
W
February 22, 1968
3–2
@ Detroit Red Wings (1967–68)
28–21–10
60
L
February 24, 1968
0–1
@ Toronto Maple Leafs (1967–68)
28–22–10
61
W
February 27, 1968
5–3
@ Pittsburgh Penguins (1967–68)
29–22–10
62
W
February 29, 1968
4–1
Toronto Maple Leafs (1967–68)
30–22–10
63
W
March 3, 1968
9–3
St. Louis Blues (1967–68)
31–22–10
64
W
March 6, 1968
5–3
@ Chicago Black Hawks (1967–68)
32–22–10
65
W
March 7, 1968
2–1
@ Philadelphia Flyers (1967–68)
33–22–10
66
L
March 10, 1968
5–7
Detroit Red Wings (1967–68)
33–23–10
67
W
March 13, 1968
2–1
@ New York Rangers (1967–68)
34–23–10
68
L
March 16, 1968
0–3
@ Toronto Maple Leafs (1967–68)
34–24–10
69
W
March 17, 1968
3–1
Montreal Canadiens (1967–68)
35–24–10
70
W
March 21, 1968
8–0
Chicago Black Hawks (1967–68)
36–24–10
71
L
March 24, 1968
3–5
@ Detroit Red Wings (1967–68)
36–25–10
72
L
March 28, 1968
4–5
New York Rangers (1967–68)
36–26–10
73
W
March 30, 1968
2–1
@ Montreal Canadiens (1967–68)
37–26–10
74
L
March 31, 1968
1–4
Toronto Maple Leafs (1967–68)
37–27–10
Playoffs
[
]
Montreal Canadiens 4, Boston Bruins 0
[
]
The teams last met a decade before in the 1958 Stanley Cup Finals where Montreal prevailed 4 games to 2. The 1968 series was characterized by Montreal taking advantage of chances and then playing excellent defensive hockey to hold leads. Canadiens veteran Gump Worsley outplayed Gerry Cheevers, particularly in Game 3. Bobby Orr was still recovering from the first surgery on his left knee, made few rushes and notched only two assists in the series.
Game 1 at the Montreal Forum was a very rough game where the teams tried to establish a physical edge. The teams' tough men, Boston's Ted Green and Montreal's John Ferguson fought in the first period while rookies Derek Sanderson and Danny Grant fought in the second period. Ken Hodge opening the scoring with his first career playoff goal, equalized by Henri Richard in the first period. Montreal pressed and outshot Boston 35-22 and Claude Provost netted the winner at 14:40 of the third period for a 2-1 Canadiens win.

Game 2 at Montreal was a tamer affair but the Canadiens once again outshot and out chanced the Bruins. In the first period, Jacques Lemaire opened the scoring with his first career playoff goal but Ken Hodge responded. In the second period, Jacques Laperriere scored and then Lemaire's second of the game staked Montreal to a 3-1 lead. With Jean Béliveau and Claude Provost both in the penalty box, Ted Green potted his first career playoff goal on the 5 on 3 Power play to cut the lead to 3-2. In the third period, Dick Duff and John McKenzie traded goals 23 seconds apart. The Bruins fought to tie up the game but Beliveau sealed the Canadiens 5-3 win.

Game 3 at the Boston Garden saw the Bruins out chance the Canadiens, particularly in the first ten minutes of the game. Ed Westfall opened the scoring and Gump Worsley made several excellent saves, particularly on Tom Williams. Jean Beliveau tipped in a Jacques Laperriere shot on the power play to tie the game 1-1. Derek Sanderson took undisciplined penalties at the end of the first period and at 6:50 of the second period which took the pressure off Montreal. On the power play, Claude Provost beat Cheevers with a long, unscreened shot that demoralized the Bruins. After that, the defensemen overcompensated and tried to block all Montreal's shots instead of checking. Dallas Smith failed to block a Ralph Backstrom shot which slide past Cheevers and later in the period, the Bruins were out-manned in front of their net and John Ferguson tapped in a goal mouth pass to make it 4-1. A Tom Williams spinning shot beat Worsley with five seconds left in the second period to make it 4-2. The Bruins pressed in the third period but Worsley was excellent, stopping Williams on a breakaway. Ted Green hit the post on a slap shot from the point and then Dick Duff scored to make it 5-2. The Bruins had few chances after Duff's goal and Montreal took a 3-0 series lead.

Game 4 at Boston was the only game of the series that the Bruins outshot the Canadiens. After a scoreless first period, Ed Westfall opened the scoring 49 seconds into the second period. Claude Larose then took over the game, evening the score at 12:58 of the second period and staking Montreal to a 2-1 lead at 7:20 of the third. He then set up Ralph Backstrom with less than four minutes to play in the game. Ken Hodge made it 3-2 with 1:26 left to play but Montreal hung on to sweep the Bruins in four games.
| | | | | | |
| --- | --- | --- | --- | --- | --- |
| # | Date | Visitor | Score | Home | Record |
| 1 | April 4 | Boston Bruins | 1-2 | Montreal Canadiens | 0-1 |
| 2 | April 6 | Boston Bruins | 3-5 | Montreal Canadiens | 0-2 |
| 3 | April 9 | Montreal Canadiens | 5-2 | Boston Bruins | 3-0 |
| 4 | April 11 | Montreal Canadiens | 3-2 | Boston Bruins | 4-0 |
Player Stats
[
]
Regular Season
[
]
Scoring
Goaltending
Playoffs
[
]
Scoring
Goaltending
| Player | MIN | GP | W | L | GA | GAA | SO |
| --- | --- | --- | --- | --- | --- | --- | --- |
| Gerry Cheevers | 240 | 4 | 0 | 4 | 15 | 3.75 | 0 |
| Team: | 240 | 4 | 0 | 4 | 15 | 3.75 | 0 |
Note: Pos = Position; GP = Games played; G = Goals; A = Assists; Pts = Points; PIM = Penalty minutes; PPG = Power-play goals; SHG = Short-handed goals; GWG = Game-winning goals
MIN = Minutes played; W = Wins; L = Losses; T = Ties; GA = Goals-against; GAA = Goals-against average; SO = Shutouts
Awards and Records
[
]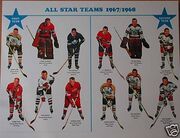 Transactions
[
]
Draft Picks
[
]
The 1967 NHL Entry Draft involved picking 20-year-olds and only three rounds were held. None of the players selected by the Bruins played in the NHL.
| Round | Player | Position | Nationality | College/Junior/Club Team (league) |
| --- | --- | --- | --- | --- |
| 1 | Meehan Bonnar | RW |  Canada | St. Thomas Jr. B |
Trivia
[
]
The Bruins became the first NHL team to use Gatorade.
Bruins who recorded a hat trick this season include:
Gallery
[
]
Video
[
]
Nearly three hours of video from the Bruins-Maple Leafs game on January 6, 1968. All goals are shown including one by Bobby Orr which tied the game 3-3. An interview with Derek Sanderson is shown in the first intermission. During the second intermission, highlights from the December 27, 1967 Bruins-Black Hawks game are shown including a Hat trick by Phil Esposito. Milt Schmidt is then interviewed.
Nearly an hour of footage from the Bruins-Canadiens Game 3 of the 1968 Semi-finals on April 9, 1968.
References
[
]