This is the 1966-67 season of the Canadian Major Junior Hockey League.
This was its first season. The league was formed around the Saskatchewan Junior Hockey League with the addition of the Edmonton Oil Kings and the Calgary Buffalos.
The Canadian Amateur Hockey Association (CAHA) did not approve of the formation of the league. Major disputes were going outside Saskatchewan to include teams from Alberta (Edmonton & Calgary) and who would administer Canadian junior hockey. The Canadian Major League wanted junior hockey run separately from the CAHA.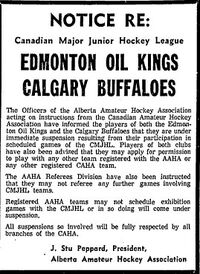 The CAHA suspended the league so it was not eligible for the Memorial Cup.
League Notes
[
]
League hires Frank Boucher as Commissioner.
League takes over Calgary Buffaloes in early November when owners stop funding team.
League hires Alf Pike to manage and coach team.
Regular Season
[
]
Playoffs
[
]
Quarter Finals
[
]
Best of 7
Estevan Bruins beat Saskatoon Blades 3 wins to 2, 1 tie.
(4-5, 3-2, 3-3, 4-3, 6-0, 1-4, 3-3)
Regina Pats beat Weyburn Red Wings 4 wins to 1.
(3-1, 6-5, 6-4, 5-7, 9-4)
Semi Finals
[
]
Best of 9
Best of 7
Final
[
]
Best of 7
Awards
[
]
All-Star Teams
[
]
Team Photos
[
]
Game Ads
[
]
Radio Ads
[
]
Playoff Game Ads
[
]
Sources
[
]