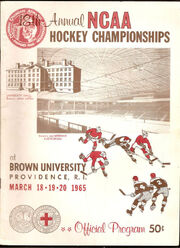 The 1965 Frozen Four was held March 18-20, 1965, in Providence, Rhode Island on the campus of Brown University at Meehan Auditorium.
The participants were:
Michigan Tech won its second national championship, defeating Boston College 8-2.
The hosts, Brown, gained a measure of Frozen Four infamy, becoming the first team to be shutout in a Frozen Four game, losing 4-0 to Michigan Tech in the semifinal round.
Bracket
Semifinals
Finals
Boston College
4
North Dakota
3
Boston College
2
Michigan Tech
8
Brown
0
Michigan Tech
4
Consolation Game: North Dakota 9, Brown 5
All-Tournament Team
First Team
G Tony Esposito, Michigan Tech
D Dennis Huculak, Michigan Tech
D Pete Leiman, Michigan Tech
F John Cunniff, Boston College
F Gary Milroy, Michigan Tech
F Wayne Weller, Michigan Tech
Second Team
G Pat Murphy, Boston College
D Roy Davidson, North Dakota
D Ralph Toran, Boston College
F Gerry Kell, North Dakota
F Bob Stoyko, North Dakota
F Dennis Macks, Brown
Most Outstanding Player: F Gary Milroy, Michigan Tech
Team Photos