Line 1:
Line 1:
−

[[File:Logo-ucup-king.gif|thumb|center]]

+

[[File:Logo-ucup-king.gif|thumb|]]

 

'''This is the 1964 tournament for the [[University Cup]], the [[CIAU]] Canadian university championship. It was held at [[Kingston]], [[Ontario]]. Four conference winners played a single elimination tournament.'''

 

'''This is the 1964 tournament for the [[University Cup]], the [[CIAU]] Canadian university championship. It was held at [[Kingston]], [[Ontario]]. Four conference winners played a single elimination tournament.'''

 
 
 
+

Return to the [[List_of_University_Cup_Playoffs|University Cup]] page.

⚫
 
 
+

Or go back to [[1963 University Cup|1963]].

 
⚫
 
+

Or go across to one of the conferences:

 
+

[[1963-64 WIAA Season]]

 
+

[[1963-64 OIAA Season]]

 
+

[[1963-64 QOAA Season]]

 
+

[[1963-64 OSLC Season]]

 
+

[[1963-64 AIAA Season]]

 
 
 

==Participating Teams==

 

==Participating Teams==

 
 
−

:*[[1963-64 CWUAA Season|Western Canada]]: '''[[University of Alberta|Alberta Golden Bear]]'''

+

:*[[1963-64 Season|Western Canada]]: '''[[University of Alberta|Alberta Golden Bear]]'''

−

:*[[1963-64 OUA Season|Quebec-Ontario]]: '''[[University of Montreal|Montreal Carabins]]'''

+

:*[[1963-64 Season|Quebec-Ontario]]: '''[[University of Montreal|Montreal Carabins]]'''

 

:*[[1963-64 OSLC|Ottawa-St Lawrence]]: '''[[Sir George Williams University|Sir George Williams Maroons]]'''

 

:*[[1963-64 OSLC|Ottawa-St Lawrence]]: '''[[Sir George Williams University|Sir George Williams Maroons]]'''

−

:*[[1963-64 AUS Season|Atlantic]]: '''[[University of New Brunswick|New Brunswick Varsity Reds]]'''

+

:*[[1963-64 Season|Atlantic]]: '''[[University of New Brunswick|New Brunswick Varsity Reds]]'''

 
 
 

==Semi-Finals==

 

==Semi-Finals==
---
Revision as of 00:17, 4 July 2017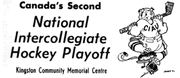 This is the 1964 tournament for the University Cup, the CIAU Canadian university championship. It was held at Kingston, Ontario. Four conference winners played a single elimination tournament.
Return to the University Cup page.
Or go back to 1963.
Or go ahead to 1965.
Or go across to one of the conferences:
  1963-64 WIAA Season
  1963-64 OIAA Season
  1963-64 QOAA Season
  1963-64 OSLC Season
  1963-64 AIAA Season

Participating Teams
Semi-Finals
Sudden death
Third Place
Consolation - Sudden death
Championship Final
Sudden death
Final Rankings
Awards
Outstanding player: Dave Dies, Sir George
All Star Team
Team Photos
See Also
Community content is available under
CC-BY-SA
unless otherwise noted.