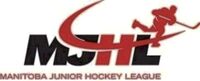 This is the 1964-65 Manitoba Junior Hockey League Season.
League Notes
Edit
Brandon Wheat Kings transfer to the SJHL, and Fort Frances Royals to the TBJHL.
League divided into four territories within the Winnipeg area, Braves stay in their tradition west, Monarchs keep central and add south, Canadiens leave east for north, and Rangers moved to east.
St. Boniface Canadiens changed their name to the Winnipeg Warriors.
League scheduled 96 games, 48 per team.
League announced the cancellation of the Manitoba - Saskatchewan all-star game.
Regular Season
Edit
Note: Balance of season cancelled.
Semi-Final
Monarchs defeated Rangers 3-games-to-2
Manitoba Championship (Turnbull Cup)
Braves defeated Monarchs 4-games-to-none
Memorial Cup Playoffs
Edit
Western Canada Semi-Final
Braves defeated Port Arthur North Stars (TBJHL) 4-games-to-1
Western Canada Championship (Abbott Cup)
Braves lost to Edmonton Oil Kings (AAHA) 4-games-to-2
see 1964-65 Western Canada Memorial Cup Playoffs
League Leaders
Edit
League Record
Edit
Scoring Leaders
Edit
All-Star Teams
Edit
First All-Star Team
Doug Overton • Ken Sucharski • Bill Cooper
Winnipeg Warriors • Winnipeg Warriors • Winnipeg Warriors
Al Dyker • Jim Lane
Winnipeg Monarchs • Winnipeg Rangers
Wayne Stephenson
Winnipeg Braves
Second All-Star Team
Dunc Rousseau • Bill Heindl • George Anderson
Winnipeg Braves • Winnipeg Braves • Winnipeg Braves
Brian Dyck • Mike Kolody
Winnipeg Braves • Winnipeg Rangers
Gary Thornton
Winnipeg Warriors
Community content is available under
CC-BY-SA
unless otherwise noted.