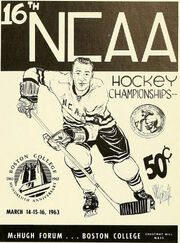 The 1963 Frozen Four was held March 14-16, 1963, in Chestnut Hill, Massachusetts at McHugh Forum on the campus of Boston College.
The participants were:
North Dakota won its second national championship, defeating the Denver Pioneers 6-5.
Bracket
Semifinals
Finals
North Dakota
8
Boston College
2
North Dakota
6
Denver
5
Denver
6
Clarkson
2
Consolation Game: Clarkson 5, Boston College 3
All-Tournament Team
First Team
G Tom Apprille, Boston College
D George Goodacre, North Dakota
D Don Ross, North Dakota
F Al McLean, North Dakota
F Dave Merrifield, North Dakota
F Don Stokaluk, North Dakota
Second Team
G Wayne Gibbons, Clarkson
D Jim Kenning, Denver
D Maurice Roberge, North Dakota
F Jack Leetch, Boston College
F Corby Adams, Clarkson
F Bob Hamill, Denver
Most Outstanding Player: F Al McLean, North Dakota
Taem Photos

This entry is a stub. You can help the Ice Hockey Wiki by expanding it. Click the "edit" button to add information.