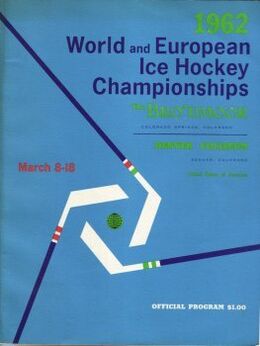 The 1962 World Ice Hockey Championships was the 29th edition of the Ice Hockey World Championships. The tourmanent was held in Colorado Springs and Denver, United States from March 8 to March 18, 1962.

The Soviet Union and Czechoslovakia both boycotted this tournament. The United States refused to grant visas to the team from East Germany. This was in retaliation for the building of the Berlin Wall the year before.
Sweden won their third international title.
Qualifying Round (A/B)
Switzerland qualified in Group A
Austria qualified in Group B
World Championship Group A (United States)
Final Round
World Championship Group B (United States)
Final Round
| Place | Team | Matches | Won | Drawn | Lost | Difference | Points |
| --- | --- | --- | --- | --- | --- | --- | --- |
| 9 |  Japan | 5 | 5 | 0 | 0 | 63 - 16 | 10 |
| 10 |  Austria | 5 | 4 | 0 | 1 | 49 - 09 | 8 |
| 11 |  France | 5 | 3 | 0 | 2 | 35 - 25 | 6 |
| 12 |  Netherlands | 5 | 2 | 0 | 3 | 20 - 46 | 4 |
| 13 |  Australia | 5 | 1 | 0 | 4 | 13 - 51 | 2 |
| 14 |  Denmark | 5 | 0 | 0 | 5 | 09 - 42 | 0 |
Notes
References
Szemberg, Szymon & Podnieks, Andrew, eds. (2007), World of Hockey: Celebrating a Century of the IIHF, Bolton, Ontario: Fenn Publishing, ISBN 1-55168-307-5
All Star Team
Team Photos
Game Ads
References
Szemberg, Szymon & Podnieks, Andrew, eds. (2007), World of Hockey: Celebrating a Century of the IIHF, Bolton, Ontario: Fenn Publishing, ISBN 1-55168-307-5