The 1962–63 Montreal Canadiens season was the 54th season in franchise history. The Canadiens finished 3rd in the league and lost in the Semi-finals to the Toronto Maple Leafs 4 games to 1.
Regular Season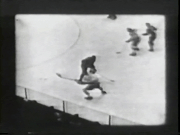 Lou Fontinato's career came to a tragic end March 9th when he tried to check Vic Hadfield and instead was thrown headlong into the boards by the Ranger player. Fontinato lay motionless on the ice for some time before being carried off the ice on a stretcher and taken to Montreal General Hospital where the diagnosis was a fractured neck, a crushed cervical vertebra. He gradually recovered from his paralyzed condition, but would never play hockey again. Jacques Laperriere replaced Fontinato on the Canadiens defence.
Final Standings

Note: GP = Games played, W = Wins, L = Losses, T = Ties, GF = Goals for, GA = Goals against, PIM = Penalties in minutes, Pts = Points
Teams that qualified for playoffs are highlighted in bold.
Game Log
Regular Season Results
No.
R
Date
Score
Opponent
Record
1
L
October 11, 1962
0–5
@ Boston Bruins (1962–63)
0–1–0
2
W
October 13, 1962
6–3
New York Rangers (1962–63)
1–1–0
3
L
October 14, 1962
1–3
@ Detroit Red Wings (1962–63)
1–2–0
4
W
October 18, 1962
4–2
Toronto Maple Leafs (1962–63)
2–2–0
5
W
October 20, 1962
7–3
Boston Bruins (1962–63)
3–2–0
6
T
October 21, 1962
3–3
@ New York Rangers (1962–63)
3–2–1
7
T
October 23, 1962
4–4
@ Chicago Black Hawks (1962–63)
3–2–2
8
L
October 27, 1962
2–3
Chicago Black Hawks (1962–63)
3–3–2
9
W
October 31, 1962
4–3
@ Toronto Maple Leafs (1962–63)
4–3–2
10
L
November 1, 1962
1–3
Toronto Maple Leafs (1962–63)
4–4–2
11
T
November 3, 1962
3–3
New York Rangers (1962–63)
4–4–3
12
W
November 8, 1962
4–1
Detroit Red Wings (1962–63)
5–4–3
13
L
November 10, 1962
1–3
Chicago Black Hawks (1962–63)
5–5–3
14
W
November 11, 1962
4–2
@ Boston Bruins (1962–63)
6–5–3
15
L
November 14, 1962
2–4
@ Toronto Maple Leafs (1962–63)
6–6–3
16
T
November 18, 1962
1–1
@ Chicago Black Hawks (1962–63)
6–6–4
17
W
November 22, 1962
3–0
@ Detroit Red Wings (1962–63)
7–6–4
18
T
November 24, 1962
5–5
Boston Bruins (1962–63)
7–6–5
19
W
November 25, 1962
3–1
@ New York Rangers (1962–63)
8–6–5
20
T
November 29, 1962
4–4
Toronto Maple Leafs (1962–63)
8–6–6
21
W
December 1, 1962
2–1
Chicago Black Hawks (1962–63)
9–6–6
22
W
December 2, 1962
3–0
@ Boston Bruins (1962–63)
10–6–6
23
L
December 5, 1962
1–2
@ Toronto Maple Leafs (1962–63)
10–7–6
24
W
December 8, 1962
2–1
Detroit Red Wings (1962–63)
11–7–6
25
L
December 9, 1962
1–2
@ Chicago Black Hawks (1962–63)
11–8–6
26
T
December 13, 1962
1–1
Boston Bruins (1962–63)
11–8–7
27
L
December 15, 1962
2–4
New York Rangers (1962–63)
11–9–7
28
W
December 16, 1962
5–2
@ Boston Bruins (1962–63)
12–9–7
29
T
December 20, 1962
4–4
Toronto Maple Leafs (1962–63)
12–9–8
30
T
December 22, 1962
1–1
Chicago Black Hawks (1962–63)
12–9–9
31
T
December 23, 1962
2–2
@ Detroit Red Wings (1962–63)
12–9–10
32
W
December 25, 1962
6–0
@ Chicago Black Hawks (1962–63)
13–9–10
33
W
December 29, 1962
5–1
Detroit Red Wings (1962–63)
14–9–10
34
T
December 30, 1962
4–4
@ New York Rangers (1962–63)
14–9–11
35
W
January 3, 1963
4–1
Boston Bruins (1962–63)
15–9–11
36
T
January 5, 1963
2–2
New York Rangers (1962–63)
15–9–12
37
W
January 6, 1963
6–0
@ New York Rangers (1962–63)
16–9–12
38
L
January 10, 1963
2–3
Detroit Red Wings (1962–63)
16–10–12
39
W
January 12, 1963
7–2
Boston Bruins (1962–63)
17–10–12
40
T
January 13, 1963
2–2
@ Chicago Black Hawks (1962–63)
17–10–13
41
W
January 17, 1963
6–4
Toronto Maple Leafs (1962–63)
18–10–13
42
W
January 19, 1963
5–1
Detroit Red Wings (1962–63)
19–10–13
43
T
January 20, 1963
3–3
@ Boston Bruins (1962–63)
19–10–14
44
L
January 23, 1963
1–5
@ Toronto Maple Leafs (1962–63)
19–11–14
45
T
January 24, 1963
1–1
@ Detroit Red Wings (1962–63)
19–11–15
46
L
January 26, 1963
2–4
New York Rangers (1962–63)
19–12–15
47
W
January 27, 1963
3–1
@ Chicago Black Hawks (1962–63)
20–12–15
48
L
January 31, 1963
3–6
Toronto Maple Leafs (1962–63)
20–13–15
49
T
February 2, 1963
3–3
Chicago Black Hawks (1962–63)
20–13–16
50
W
February 3, 1963
6–2
@ Detroit Red Wings (1962–63)
21–13–16
51
L
February 6, 1963
3–6
@ New York Rangers (1962–63)
21–14–16
52
T
February 9, 1963
3–3
@ Toronto Maple Leafs (1962–63)
21–14–17
53
T
February 10, 1963
5–5
@ Boston Bruins (1962–63)
21–14–18
54
L
February 14, 1963
1–2
Boston Bruins (1962–63)
21–15–18
55
W
February 16, 1963
4–2
Chicago Black Hawks (1962–63)
22–15–18
56
W
February 17, 1963
6–1
@ Detroit Red Wings (1962–63)
23–15–18
57
L
February 20, 1963
1–2
@ Toronto Maple Leafs (1962–63)
23–16–18
58
W
February 23, 1963
6–3
New York Rangers (1962–63)
24–16–18
59
L
March 2, 1963
1–7
Detroit Red Wings (1962–63)
24–17–18
60
T
March 3, 1963
2–2
@ Chicago Black Hawks (1962–63)
24–17–19
61
W
March 5, 1963
4–3
@ Detroit Red Wings (1962–63)
25–17–19
62
W
March 7, 1963
8–0
Boston Bruins (1962–63)
26–17–19
63
L
March 9, 1963
2–5
New York Rangers (1962–63)
26–18–19
64
W
March 10, 1963
5–1
@ New York Rangers (1962–63)
27–18–19
65
T
March 14, 1963
3–3
Toronto Maple Leafs (1962–63)
27–18–20
66
W
March 16, 1963
5–3
Detroit Red Wings (1962–63)
28–18–20
67
T
March 17, 1963
2–2
@ Boston Bruins (1962–63)
28–18–21
68
T
March 20, 1963
3–3
@ Toronto Maple Leafs (1962–63)
28–18–22
69
T
March 23, 1963
4–4
Chicago Black Hawks (1962–63)
28–18–23
70
L
March 24, 1963
0–5
@ New York Rangers (1962–63)
28–19–23
Playoffs
Toronto Maple Leafs 4, Montreal Canadiens 1
Player Stats
Regular Season
Scoring
Goaltending
Playoffs
Scoring
Goaltending
| Player | MIN | GP | W | L | GA | GAA | SO |
| --- | --- | --- | --- | --- | --- | --- | --- |
| Jacques Plante | 300 | 5 | 1 | 4 | 14 | 2.80 | 0 |
| Team: | 300 | 5 | 1 | 4 | 14 | 2.80 | 0 |
Note: GP = Games played; G = Goals; A = Assists; Pts = Points; +/- = Plus/Minus; PIM = Penalty Minutes; PPG=Power-play goals; SHG=Short-handed goals; GWG=Game-winning goals
MIN=Minutes played; W = Wins; L = Losses; T = Ties; GA = Goals Against; GAA = Goals Against Average; SO = Shutouts
Awards and Records
Transactions
Gallery
See Also
References