The 1961–62 Montreal Canadiens season was the 53rd season in franchise history. The Canadiens finished 1st in the league and lost in the Semi-finals to the Chicago Black Hawks 4 games to 2.
Pre-season
The Canadiens held their training camp in Victoria, British Columbia. They then played exhibition games in Vancouver, Seattle, Trail, Calgary, Regina, and Winnipeg. One of the reasons for their trip to the west was to counter the Toronto Maple Leafs' reputation as Canada's team. The Canadiens were hoping to increase their popularity across the country, particularly on television broadcasts. Dickie Moore and Jean Béliveau suffered knee injuries during the exhibition games and both missed a significant portion of the regular season.
Regular Season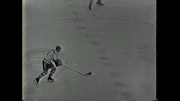 During the Boston Bruins 5-2 loss on March 10, 1962 to Montreal, the Canadiens dominated the play. The Bruins couldn't sustain any pressure in Montreal's zone, hitting was noticeably absent and turnovers abounded. Jean Béliveau scored early in the third period when he stripped Doug Mohns of the puck at the Bruins blueline and then fired a shot over Bruce Gamble's glove. Both Bruins goals came off rushes with Pat Stapleton scoring his first career goal on a solo effort in which he deked both Lou Fontinato and Jacques Plante.
Final Standings
Note: GP = Games played, W = Wins, L = Losses, T = Ties, Pts = Points, GF = Goals for, GA = Goals against
Teams that qualified for the playoffs are highlighted in bold.
Game Log
Regular Season Results
No.
R
Date
Score
Opponent
Record
1
W
October 14, 1961
3–1
New York Rangers (1961–62)
1–0–0
2
T
October 15, 1961
5–5
@ Boston Bruins (1961–62)
1–0–1
3
W
October 18, 1961
5–2
@ New York Rangers (1961–62)
2–0–1
4
W
October 21, 1961
6–2
Boston Bruins (1961–62)
3–0–1
5
W
October 22, 1961
3–2
@ Chicago Black Hawks (1961–62)
4–0–1
6
W
October 26, 1961
7–1
Chicago Black Hawks (1961–62)
5–0–1
7
W
October 28, 1961
7–5
Detroit Red Wings (1961–62)
6–0–1
8
W
October 29, 1961
6–3
@ Detroit Red Wings (1961–62)
7–0–1
9
L
November 1, 1961
2–3
@ Toronto Maple Leafs (1961–62)
7–1–1
10
L
November 2, 1961
2–5
Boston Bruins (1961–62)
7–2–1
11
T
November 4, 1961
3–3
New York Rangers (1961–62)
7–2–2
12
W
November 9, 1961
5–2
Toronto Maple Leafs (1961–62)
8–2–2
13
W
November 11, 1961
2–1
Chicago Black Hawks (1961–62)
9–2–2
14
L
November 12, 1961
0–3
@ Detroit Red Wings (1961–62)
9–3–2
15
L
November 15, 1961
2–3
@ Toronto Maple Leafs (1961–62)
9–4–2
16
L
November 16, 1961
2–3
@ Boston Bruins (1961–62)
9–5–2
17
T
November 18, 1961
4–4
@ New York Rangers (1961–62)
9–5–3
18
T
November 19, 1961
3–3
@ Chicago Black Hawks (1961–62)
9–5–4
19
W
November 23, 1961
5–3
Detroit Red Wings (1961–62)
10–5–4
20
W
November 25, 1961
5–0
Boston Bruins (1961–62)
11–5–4
21
T
November 26, 1961
2–2
@ New York Rangers (1961–62)
11–5–5
22
T
November 29, 1961
2–2
@ Toronto Maple Leafs (1961–62)
11–5–6
23
T
November 30, 1961
1–1
Toronto Maple Leafs (1961–62)
11–5–7
24
W
December 2, 1961
3–2
Detroit Red Wings (1961–62)
12–5–7
25
W
December 3, 1961
1–0
@ Chicago Black Hawks (1961–62)
13–5–7
26
W
December 7, 1961
4–1
Toronto Maple Leafs (1961–62)
14–5–7
27
T
December 9, 1961
2–2
New York Rangers (1961–62)
14–5–8
28
W
December 10, 1961
4–3
@ Boston Bruins (1961–62)
15–5–8
29
W
December 16, 1961
8–4
Boston Bruins (1961–62)
16–5–8
30
L
December 17, 1961
1–3
@ Detroit Red Wings (1961–62)
16–6–8
31
L
December 21, 1961
3–4
Chicago Black Hawks (1961–62)
16–7–8
32
W
December 23, 1961
6–1
Detroit Red Wings (1961–62)
17–7–8
33
W
December 25, 1961
5–2
@ Boston Bruins (1961–62)
18–7–8
34
W
December 27, 1961
3–0
@ New York Rangers (1961–62)
19–7–8
35
T
December 30, 1961
4–4
Chicago Black Hawks (1961–62)
19–7–9
36
L
January 1, 1962
0–2
@ Chicago Black Hawks (1961–62)
19–8–9
37
L
January 3, 1962
1–3
@ Toronto Maple Leafs (1961–62)
19–9–9
38
W
January 6, 1962
5–1
New York Rangers (1961–62)
20–9–9
39
T
January 7, 1962
2–2
@ Detroit Red Wings (1961–62)
20–9–10
40
W
January 11, 1962
4–2
Toronto Maple Leafs (1961–62)
21–9–10
41
W
January 13, 1962
5–3
Boston Bruins (1961–62)
22–9–10
42
W
January 14, 1962
4–1
@ Boston Bruins (1961–62)
23–9–10
43
W
January 17, 1962
7–3
@ Chicago Black Hawks (1961–62)
24–9–10
44
T
January 20, 1962
2–2
Detroit Red Wings (1961–62)
24–9–11
45
W
January 21, 1962
5–3
@ Detroit Red Wings (1961–62)
25–9–11
46
W
January 27, 1962
5–1
New York Rangers (1961–62)
26–9–11
47
W
January 28, 1962
5–1
@ Boston Bruins (1961–62)
27–9–11
48
W
February 1, 1962
5–2
Toronto Maple Leafs (1961–62)
28–9–11
49
W
February 3, 1962
8–1
Detroit Red Wings (1961–62)
29–9–11
50
L
February 4, 1962
1–2
@ New York Rangers (1961–62)
29–10–11
51
W
February 10, 1962
4–2
@ Toronto Maple Leafs (1961–62)
30–10–11
52
W
February 11, 1962
4–3
@ Chicago Black Hawks (1961–62)
31–10–11
53
W
February 15, 1962
9–1
Boston Bruins (1961–62)
32–10–11
54
W
February 17, 1962
6–2
Chicago Black Hawks (1961–62)
33–10–11
55
L
February 18, 1962
2–4
@ Detroit Red Wings (1961–62)
33–11–11
56
W
February 21, 1962
4–2
@ Toronto Maple Leafs (1961–62)
34–11–11
57
W
February 24, 1962
4–2
New York Rangers (1961–62)
35–11–11
58
T
February 25, 1962
3–3
@ New York Rangers (1961–62)
35–11–12
59
T
March 3, 1962
2–2
Detroit Red Wings (1961–62)
35–11–13
60
L
March 4, 1962
2–5
@ Chicago Black Hawks (1961–62)
35–12–13
61
T
March 8, 1962
1–1
Toronto Maple Leafs (1961–62)
35–12–14
62
W
March 10, 1962
5–2
Boston Bruins (1961–62)
36–12–14
63
W
March 11, 1962
2–1
@ New York Rangers (1961–62)
37–12–14
64
L
March 14, 1962
2–5
@ Toronto Maple Leafs (1961–62)
37–13–14
65
W
March 15, 1962
6–5
Chicago Black Hawks (1961–62)
38–13–14
66
W
March 17, 1962
2–0
New York Rangers (1961–62)
39–13–14
67
L
March 18, 1962
2–6
@ Boston Bruins (1961–62)
39–14–14
68
W
March 22, 1962
4–1
Toronto Maple Leafs (1961–62)
40–14–14
69
W
March 24, 1962
5–3
Chicago Black Hawks (1961–62)
41–14–14
70
W
March 25, 1962
5–2
@ Detroit Red Wings (1961–62)
42–14–14
Playoffs
Chicago Black Hawks 4, Montreal Canadiens 2
Player Stats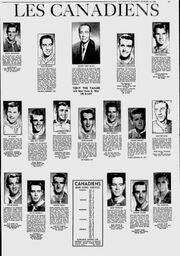 Regular Season
Scoring
Goaltending
| Player | MIN | GP | W | L | T | GA | GAA | SO |
| --- | --- | --- | --- | --- | --- | --- | --- | --- |
| Jacques Plante | 4200 | 70 | 42 | 14 | 14 | 166 | 2.37 | 4 |
| Team: | 4200 | 70 | 42 | 14 | 14 | 166 | 2.37 | 4 |
Playoffs
Scoring
Goaltending
| Player | MIN | GP | W | L | GA | GAA | SO |
| --- | --- | --- | --- | --- | --- | --- | --- |
| Jacques Plante | 360 | 6 | 2 | 4 | 19 | 3.17 | 0 |
| Team: | 360 | 6 | 2 | 4 | 19 | 3.17 | 0 |
Note: GP = Games played; G = Goals; A = Assists; Pts = Points; +/- = Plus/Minus; PIM = Penalty Minutes; PPG=Power-play goals; SHG=Short-handed goals; GWG=Game-winning goals
MIN=Minutes played; W = Wins; L = Losses; T = Ties; GA = Goals Against; GAA = Goals Against Average; SO = Shutouts
Awards and Records
Transactions
Gallery
See Also
References