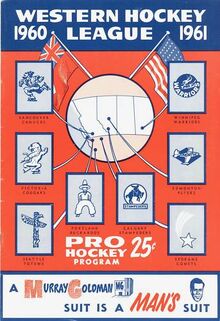 This is the 1960-61 season of the Western Hockey League. It was the ninth season of the league.
The Portland Buckaroos were admitted, making a total of eight teams in the league. The Spokane Spokes were renamed the Spokane Comets.
Standings
Playoffs
Quarter Finals
Best of 5
Semi Finals
Best of 7
Best of 5
Final
Best of 7
Portland Buckaroos won the Lester Patrick Cup.

Note:This was the first All-American final in the league's history. By coincidence, the National Hockey League also had an All-American final this season, its first in 11 years.
All-Star Game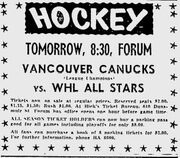 This was the fourth annual game.
The previous games pitted the Coast Division all stars against those from the Prairie Division. The games were played in mid-season.
This game featured the defending champion Vancouver Canucks against an all-star team chosen from the other teams. It was played before the start of the season.
Friday, October 7, 1960 @ Vancouver
Attendance = approx. 2000
All-Stars 4 Vancouver Canucks 3
Awards
Team photos
All-Star Teams
First Team
Second Team
Game Ads
Season Tickets
See Also