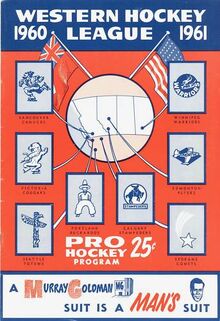 This is the 1960-61 season of the Western Hockey League. It was the ninth season of the league.
The Portland Buckaroos were admitted, making a total of eight teams in the league. The Spokane Spokes were renamed the Spokane Comets.
Best of 5
Best of 7
Best of 5
Best of 7
Portland Buckaroos won the Lester Patrick Cup.

Note:This was the first All-American final in the league's history. By coincidence, the National Hockey League also had an All-American final this season, its first in 11 years.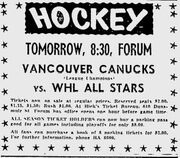 This was the fourth annual game.
The previous games pitted the Coast Division all stars against those from the Prairie Division. The games were played in mid-season.
This game featured the defending champion Vancouver Canucks against an all-star team chosen from the other teams. It was played before the start of the season.
Friday, October 7, 1960 @ Vancouver
Attendance = approx. 2000
All-Stars 4 Vancouver Canucks 3
Community content is available under
CC-BY-SA
unless otherwise noted.