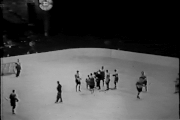 The 1958 Ice Hockey World Championships were held between February 28 and March 9, 1958 in Oslo, Norway. Canadian representatives the Whitby Dunlops defeated the USSR 4-2 in the deciding game to win the tournament. Bob Attersley scored the winning goal and Charlie Burns was named the tournament's best forward.
The tournament was attended by General Manager Lynn Patrick of the Boston Bruins who was particularly impressed with Russian centerman Veniamin Alexandrov.
Final Round
Final Standings
Note:

Canada was represented by the Whitby Dunlops.
Canadian Scorers
Connie Broden 11-7-18
Jack McKenzie 12-5-17
Bob Attersley 10-7-17
Sid Smith 9-4-13
Tom O'Connor 7-3-10
Geotge Gosselin 7-2-9
Ted O'Connor 6-3-9
Bus Gagnon 6-3-9
Harry Sinden 4-3-7
Charlie Burns 3-4-7
Jean-Paul Lamirande 0-6-6
George Samolenko 2-2-4
Sandy Air 1-2-3
Gord Myles 3-0-3
Alf Treen 1-1-2
Tournament Awards
Video
Player introductions and game highlights.
Media Coverage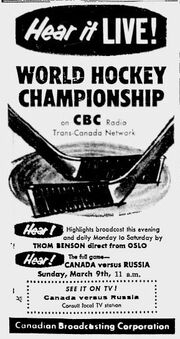 The Canadian Broadcasting Corporation had extensive coverage of the tournament by radio, including live play-by-play of the Canada-Soviet game.
In an era before satellites, live television coverage in Canada was impossible. The USSR-Canada game was on a tape delay.
See Also
About the Whitby Dunlops
References