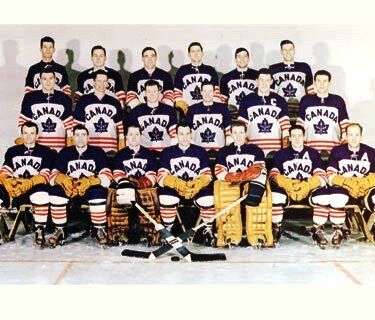 The 1955 World Ice Hockey Championships was the 22nd edition of the Ice Hockey World Championships. The tourmanent was held in Düsseldorf, Dortmund, Krefeld and Cologne, West Germany from February 25 to March 6, 1955.
A total of 14 nations participated in this World Championship, which was a new record for the postwar era. As a result, the teams were seeded with the strongest 9 teams placed in Pool A (the championship pool)and the remaining 5 nations as well as the West German B team placed in Pool B.
Canada won their sixteenth international title. They were represented by the Penticton V's who had won the Allan Cup the previous season.
POOL A
[
]
Games
[
]
25. February 1955
Cologne
Czechoslovakia
–
Switzerland
7:0 (1:0,2:0,4:0)
25. February 1955
Dortmund
Canada
–
USA
12:1 (3:0,5:1,4:0)
25. February 1955
Düsseldorf
USSR
–
Finland
10:2 (2:2,5:0,3:0)
25. February 1955
Krefeld
West Germany
–
Sweden
4:5 (1:2,3:2,0:1)
26. February 1955
Cologne
USA
–
Finland
8:1 (1:1,4:0,3:0)
26. February 1955
Dortmund
USSR
–
Sweden
2:1 (1:1,0:0,1:0)
26. February 1955
Düsseldorf
Canada
–
Czechoslovakia
5:3 (1:0,0:1,4:2)
26. February 1955
Krefeld
West Germany
–
Poland
4:5 (3:3,0:1,1:1)
27. February 1955
Cologne
Canada
–
Poland
8:0 (3:0,3:0,2:0)
27. February 1955
Dortmund
West Germany
–
USA
3:6 (0:3,3:3,0:0)
27. February 1955
Düsseldorf
Sweden
–
Switzerland
10:0 (0:0,6:0,4:0)
27. February 1955
Krefeld
USSR
–
Czechoslovakia
4:0 (1:0,1:0,2:0)
28. February 1955
Cologne
USSR
–
Poland
8:2 (2:0,2:1,4:0)
28. February 1955
Düsseldorf
Canada
–
Finland
12:0 (7:0,3:0,2:0)
28. February 1955
Krefeld
USA
–
Switzerland
7:3 (1:1,2:1,4:1)
1. March 1955
Cologne
Czechoslovakia
–
Sweden
6:5 (2:1,2:1,2:3)
1. March 1955
Düsseldorf
Poland
–
Switzerland
2:4 (1:1,0:1,1:2)
1. March 1955
Krefeld
West Germany
–
Finland
7:1 (3:0,3:1,1:0)
2. March 1955
Cologne
Canada
–
Switzerland
11:1 (4:1,3:0,4:0)
2. March 1955
Düsseldorf
Sweden
–
Finland
9:0 (1:0,6:0,2:0)
2. March 1955
Düsseldorf
West Germany
–
Czechoslovakia
0:8 (0:0,0:5,0:3)
2. March 1955
Krefeld
USSR
–
USA
3:0 (1:0,2:0,0:0)
3. March 1955
Cologne
Poland
–
Finland
6:3 (1:1,2:1,3:1)
3. March 1955
Krefeld
Canada
–
Sweden
3:0 (0:0,3:0,0:0)
3. March 1955
Düsseldorf
West Germany
–
USSR
1:5 (1:0,0:2,0:3)
3. March 1955
Cologne
Czechoslovakia
–
USA
4:4 (1:1,1:1,2:2)
4. March 1955
Cologne
West Germany
–
Canada
1:10 (0:3,1:4,0:3)
4. March 1955
Düsseldorf
USA
–
Poland
6:2 (2:0,3:0,1:2)
4. March 1955
Krefeld
USSR
–
Switzerland
7:2 (2:0,2:1,3:1)
5. March 1955
Cologne
Finland
–
Switzerland
7:2 (2:1,3:1,2:0)
5. March 1955
Düsseldorf
Sweden
–
USA
1:1 (0:0,0:0,1:1)
5. March 1955
Krefeld
Czechoslovakia
–
Poland
17:2 (7:0,3:2,7:0)
6. March 1955
Düsseldorf
West Germany
–
Switzerland
8:3 (3:1,1:2,4:0)
6. March 1955
Cologne
Sweden
–
Poland
9:0 (4:0,2:0,3:0)
6. March 1955
Düsseldorf
Czechoslovakia
–
Finland
18:2 (3:1,7:1,8:0)
6. March 1955
Krefeld
Canada
–
USSR
5:0 (1:0,2:0,2:0)
Final Standings -- Pool A
[
]
POOL B
[
]
Games
[
]
25. February 1955
Dortmund
Austria
–
Yugoslavia
3:2 (1:1,1:1,1:0)
25. February 1955
Düsseldorf
West Germany B
–
Italy
2:2 (1:1,0:1,1:0)
27. February 1955
Dortmund
Netherlands
–
Belgium
6:3 (1:1,1:0,4:2)
27. February 1955
Cologne
West Germany B
–
Austria
3:2 (1:0,2:1,0:1)
28. February 1955
Krefeld
Yugoslavia
–
Belgium
5:2 (0:0,4:1,1:1)
28. February 1955
Düsseldorf
Italy
–
Austria
3:1 (2:1,1:0,0:0)
2. March 1955
Krefeld
Austria
–
Belgium
5:3 (1:0,1:1,3:2)
2. March 1955
Dortmund
Italy
–
Netherlands
10:2 (4:1,2:0,4:1)
2. March 1955
Düsseldorf
West Germany B
–
Yugoslavia
5:1 (4:0,0:0,1:1)
4. March 1955
Cologne
Italy
–
Yugoslavia
9:1 (3:1,4:0,2:0)
4. March 1955
Cologne
West Germany B
–
Netherlands
11:1 (3:1,2:0,6:0)
5. March 1955
Krefeld
Austria
–
Netherlands
6:1 (2:0,2:0,2:1)
5. March 1955
Düsseldorf
West Germany B
–
Belgium
11:1 (1:0,4:0,6:1)
6. March 1955
Krefeld
Italy
–
Belgium
28:0 (7:0,13:0,8:0)
6. March 1955
Krefeld
Netherlands
–
Yugoslavia
9:1 (3:1,2:0,4:0)
Final Standing – Pool B
[
]

Game details for Pool A and Pool B results from German version at http://de.wikipedia.org/wiki/Eishockey-Weltmeisterschaft_1955
All-Star Team
[
]
Leading Scorer
[
]
Vlastimil Bubník, Czechoslovakia
Canadian Scorers

[

]
Goals-Assists-Points-Penalty minutes
Billy Warwick    14- 8-22 12
Grant Warwick     6-11-17  5
Jack McIntyre     8- 9-17  4


Jack MacDonald

    4- 8-12  6


Doug Kilburn

      6- 6-12  0


Mike Shabaya

      7- 3-10  0


Jim Bairburn

      7- 2- 9  2
Dick Warwick      4- 5- 9  4


Hal Tarala

        3- 3- 6  2


Barry Middleton

   1- 4- 5  4
George McAvoy     2- 2- 4 14


Don Berry

         1- 1- 2  2


Bernie Bathgate

   1- 1- 2  0
Kevin Conway      1- 1- 2 17


Jack Taggart

      0- 1- 1  0

References
[
]
Szemberg, Szymon & Podnieks, Andrew, eds. (2007), World of Hockey: Celebrating a Century of the IIHF, Bolton, Ontario: Fenn Publishing, ISBN 1-55168-307-5