This was held between the champions of the Quebec Hockey League and the Western Hockey League (minor pro).
All the games were held in eastern Canada because of the expense of travelling across country and the travel time involved. Cross-country filghts were not that common yet.
These games were held after the Stanley Cup Playoffs in order to minimize competition from television and radio broadcasts of the Stanley Cup games.
Champions
Final
Best of 9

April 23 Goal by Horvath at 19.39 2nd period overtime.
Shawinigan Falls Cataractes beat Edmonton Flyers 5 wins to 2.
Shawinigan Falls Cataractes won the Edinburgh Trophy.
Second Game Brawl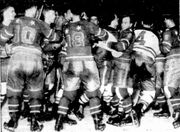 A full scale, bench-clearing brawl broke out with less than four minutes left in the second game. It was started by a high-sticking duel between Connie Broden of Shawinigan and Ed Stankiewicz of Edmonton.
When the fight ended the referee gave out misconduct penalties to everyone on both teams except for the minimum ten players (five per team) needed to finish the game.
Financial
The series was a financial success with a total attendance of over 53,000 and a gross gate of over $65,000. The Cataractes received $10,000 for winning and the Flyers got $7500.
65% of the net profits went to the Quebec Hockey League and 35% went to the Western Hockey League.
Game Ads
Team Photos