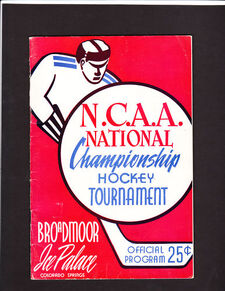 The 1953 Frozen Four was held March 12-14, 1953, in Colorado Springs, Colorado at Broadmoor Ice Palace.
The competitors were:
This year's Frozen Four marked the first time that Colorado College did not appear, though Michigan appeared for the sixth straight year. In the final game, The Wolverines won their third straight NCAA championship and fourth overall by defeating Minnesota, 7-3.
Bracket
Semifinals
Finals
Minnesota
3
Rensselaer
2
Minnesota
3
Michigan
7
Boston University
2
Michigan
14
All-Tournament Team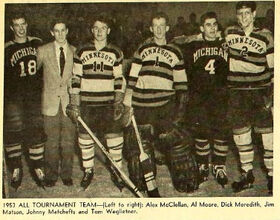 First Team
G Jim Mattson, Minnesota
D Alex McClellan, Michigan
D Tom Wegleitner, Minnesota
F John Matchefts, Michigan
F Dick Meredith, Minnesota
F Abbie Moore, Rensselaer
Second Team
G Willard Ikola, Michigan
D Herb LaFontaine, Rensselaer
D Reggie Shave, Michigan
F John Mayasich, Minnesota
F George Chin, Michigan
F Frank Chiarelli, Rensselaer
Most Outstanding Player: F John Matchefts, Michigan
Team Photos

This entry is a stub. You can help the Ice Hockey Wiki by expanding it. Click the "edit" button to add information.