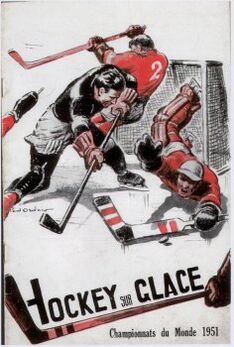 The 1951 World Ice Hockey Championships were the 15th World Championships and the 28th European Championships in ice hockey for international teams. The tournament took place in France from the 9th to 17 March and the matches were played in the capital city, Paris. Thirteen nations took part, and were first split into two groups. The seven best teams were placed in the first group, and the six others were placed into the "Criterium Européen", which would later become the B World Championships. The A World Championships were played in a league, with each team playing each other once.
Canada became world champions for the 14th time, and Sweden took their fifth European Championships.
Canada was represented by the Lethbridge Maple Leafs. See 1950-51 Lethbridge Maple Leafs.
A World Championships
[
]
| Date | Matches A World Championships 1951 | Result | Period. |
| --- | --- | --- | --- |
| 9 March |  Norway -  United States of America | 3 - 0 | 0-0,1-0,2-0 |
| 10 March | Canada -  Finland | 11 - 1 | 4-0, 4-0, 3-1 |
| 10 March |  Sweden -  United Kingdom | 5 - 1 | 0-1, 1-0, 4-0 |
| 10 March |  Switzerland -  Norway | 8 - 1 | 4-1, 3-0, 1-0 |
| 11 March |  Sweden -  United States of America | 8 - 0 | 4-0,1-0,3-0 |
| 11 March | Canada -  Norway | 8 - 0 | 3-0, 1-0, 4-0 |
| 12 March |  Switzerland -  United States of America | 7 - 1 | 2-0, 4-1, 1-0 |
| 12 March |  Switzerland -  United Kingdom | 7 - 1 | 2-0,4-1,1-0 |
| 13 March |  Sweden -  Norway | 5 - 2 | 1-0,4-1,0-1 |
| 13 March |  Switzerland -  Finland | 4 - 1 | 1-0, 2-1, 1-0 |
| 13 March | Canada -  United Kingdom | 17 - 1 | 0-1, 7-0, 10-0 |
| 14 March |  Switzerland -  Sweden ] | 3 - 3 | 1-2, 1-1, 1-0 |
| 15 March |  Norway -  United Kingdom | 4 - 3 | 0-0,1-2,3-1 |
| 15 March |  Sweden -  Finland | 11 - 3 | 5-0, 1-1, 5-2 |
| 15 March | Canada -  United States of America | 16 - 2 | 5-0, 6-2, 5-0 |
| 16 March |  Norway -  Finland | 0 - 3 | 0-1,0-0,0-2 |
| 16 March | Canada -  Switzerland | 5 - 1 | 0-1,3-0,2-0 |
| 16 March |  United States of America-  United Kingdom | 6 - 6 | 1-4,2-1,3-1 |
| 17 March |  Finland -  United Kingdom | 3 - 6 | 0-2,3-0,0-4 |
| 17 March |  Switzerland -  United States of America | 5 - 1 | 3-0,1-1,1-0 |
| 17 March | Canada -  Sweden | 5 - 1 | 1-0,2-0,2-1 |
Table
[
]
World Championships Group B (France)
[
]
| Date | Matches B World Championships 1951 | Result | Period. |
| --- | --- | --- | --- |
| 10 March | France - Italy | 1 - 4 | 0-1,0-2,1-1 |
| 11 March | Netherlands - Italy | 1 - 3 | 1-0,0-2,0-1 |
| 11 March | France - Austria | 7 - 3 | 1-0,1-0,5-3 |
| 11 March | Yugoslavia - Belgium | 3 - 13 | 0-5,0-3,3-5 |
| 12 March | Austria - Belgium | 5 - 3 | 0-1,3-1,2-1 |
| 12 March | Netherlands - Yugoslavia | 5 - 2 | 0-0,4-1,1-1 |
| 13 March | Belgium - Italy | 3 - 6 | 1-0,0-1,2-5 |
| 14 March | France - Yugoslavia | 10 - 3 | 3-2,3-1,4-0 |
| 14 March | Austria - Netherlands | 3 - 4 | 1-1,1-2,1-1 |
| 15 March | Italy - Yugoslavia | 6 - 1 | 1-0,4-1,1-0 |
| 15 March | France - Belgium | 10 - 0 | 2-0,3-0,5-0 |
| 16 March | Belgium - Netherlands | 1 - 2 | 0-2,1-0,0-0 |
| 16 March | Austria - Italy | 2 - 7 | 1-1,0-3,1-3 |
| 17 March | Austria - Yugoslavia | 3 - 4 | 1-1,1-0,1-3 |
| 17 March | France - Netherlands | 7 - 5 | 1-2,3-1,3-2 |
Table
[
]
World Championship medals
[
]
European Championship medals
[
]
Photo Gallery
[
]