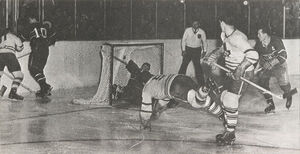 The 1951 Stanley Cup Final NHL championship series was contested by the Toronto Maple Leafs and the Montreal Canadiens. The Maple Leafs won the series 4–1. It was the Toronto franchise's ninth Stanley Cup win and the last in a series of six wins starting in 1942. It was the first appearance in a string of ten consecutive appearances by the Canadiens.
Paths to the Final
Toronto defeated the Boston Bruins 4–1 while Montreal defeated the defending champion Detroit Red Wings 4–2 to reach the final.
The Series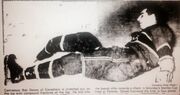 Every game went into overtime in this series. Canadiens forward Bob Dawes played his only game of the 1951 playoffs in the last game of the Finals. He suffered a compound fracture of the right leg and never played in the NHL again.
Bill Barilko scored the Cup-winning goal, his last goal in the NHL as he would die in a plane crash during the summer.
Toronto Maple Leafs vs. Montreal Canadiens
| Date | Away | Score | Home | Score | Notes |
| --- | --- | --- | --- | --- | --- |
| April 11 | Montreal | 2 | Toronto | 3 | OT |
| April 14 | Montreal | 3 | Toronto | 2 | OT |
| April 17 | Toronto | 2 | Montreal | 1 | OT |
| April 19 | Toronto | 3 | Montreal | 2 | OT |
| April 21 | Montreal | 2 | Toronto | 3 | OT |
Toronto wins best-of-seven series four games to one
Toronto Maple Leafs 1951 Stanley Cup champions
Roster
  Non-players
Conn Smythe (President/Manager/Owner), William MacBrien (Chairman/Owner)
Ed Bickle, Jack Bickell (Directors/Owners)
George McGillach, John Murdoch (Vice Presidents)
Clarence Hap Day (Ass't Manager), Joe Primeau (Coach)
George Walker (Chief Scout), Ed Fitkin (Publicity Director)
Tim Daly (Trainer)
Archie Campbell, Tom Nayler (Ass't Trainers)
Norman Delarue†, Robert Galloway†, Horance MacIntyre† (Team Doctors)
Stanley Cup Engraving
† Included on the original ring in 1951. There was no room left for the 3 team doctors the way that the Toronto Maple Leafs 1951 members were engraved on the new ring during the 1957–58 season.
A played 13 regular season games and B played 12 games. Neither played in the playoffs so they did shouldn't have qualified to have their names engraved on the Cup.
Engraving Mistakes
Several mistakes happened in the engraving of the names:
Gus Mortson's last name was misspelled WORTSON with a "W" instead a "M".
Danny Lewecki's last name was misspelled LEWESKI, with a "S" instead of a "C".
Ted Kennedy's name was misspelled KENNEDYY with an extra "Y". His position as Captain was also left off the Stanley Cup.
William A. H. MacBrien's last name was misspelled as McBrien.
Elwin "Al" Rollins' first name was misspelled ELVIN with a "V" instead a "W".
The Rollins mistake was not corrected on the Replica Cup created in 1992–93. The other 4 mistakes were corrected on the Replica Cup.
Members of Toronto Maple Leafs Dynasty that won 4 cups in 5 years (1947, 1948, 1949, 1951)
Bill Bariko, Turk Broda, Ted Kennedy†, Joe Klukay, Howie Meeker, Gus Mortson, Jimmy Thomson, Harry Watson (8 players),
Ed Bickle†, John Bickell†, Conn Smythe†, John Mordoch†, William MacBrien†, Hap Day†, Tim Daly†, George Walker, Ed Finkin, Horance McIntre (10 non-players).
† also won the Stanley Cup in 1945.
Gallery
Video
Highlights of Game 5 of the Finals including goals by Richard, the game tying goal with 32 seconds left by Tod Sloan and the overtime winner by Bill Barilko.
Links to related articles