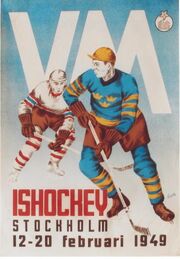 The 16th Ice Hockey World Championships and 27th European Hockey Championships was held from February 12 to 20, 1949, in Stockholm, Sweden. In the initial round, the ten teams participating were divided into three groups: two groups of three and one of four. In the second round, the top two teams in each group advanced to the medal round (for positions 1 through 6) with the remaining four teams advancing to the consolation round for places 7 through 10.
Czechoslovakia won their second world championship and ninth European Championship by defeating Canada 3:2. It was only the third defeat for the Canadians at a World Championship.
Canada was represented by the Sudbury Wolves. See also 1948-49 Sudbury Wolves.
World Ice Hockey Championship (in Stockholm, Sweden)
Preliminary round
Group A
12 February 1949
Stockholm
Canada
–
Denmark
47:0 (13:0,16:0,18:0)
13 February 1949
Stockholm
Canada
–
Austria
7:0 (0:0,3:0,4:0)
14 February 1949
Stockholm
Austria
–
Denmark
25:1 (8:0,6:0,11:1)
Standings
| Pos. | Team | G.P. | Wins | Ties | Losses | Goals | Goal diff | Pts.. |
| --- | --- | --- | --- | --- | --- | --- | --- | --- |
| 1 | Canada | 2 | 2 | 0 | 0 | 54: 0 | +54 | 4:0 |
| 2 | Austria | 2 | 1 | 0 | 1 | 25: 8 | +17 | 2:2 |
| 3 | Denmark | 2 | 0 | 0 | 2 | 1:72 | -71 | 0:4 |
Group B
12 February 1949
Stockholm
Norway
–
Belgium
2:0 (2:0,0:0,0:0)
12 February 1949
Stockholm
USA
–
Switzerland
12:5 (6:2,4:1,2:2)
13 February 1949
Stockholm
Switzerland
–
Belgium
18:2 (5:0,10:1,3:1)
13 February 1949
Stockholm
USA
–
Norway
12:1 (7:1,3:0,2:0)
14 February 1949
Stockholm
Switzerland
–
Norway
7:1 (4:1,3:0,0:0)
14 February 1949
Stockholm
USA
–
Belgium
12:0 (4:0,5:0,3:0)
Standings
| Pos. | Team | G.P. | Wins | Ties | Losses | Goals | Goal diff | Pts.. |
| --- | --- | --- | --- | --- | --- | --- | --- | --- |
| 1 | USA | 3 | 3 | 0 | 0 | 36: 6 | +30 | 6:0 |
| 2 | Switzerland | 3 | 2 | 0 | 1 | 30:15 | +15 | 4:2 |
| 3 | Norway | 3 | 1 | 0 | 2 | 4:19 | -15 | 2:4 |
| 4 | Belgium | 3 | 0 | 0 | 3 | 2:32 | -30 | 0:6 |
Group C
12 February 1949
Stockholm
Sweden
–
Finland
12:1 (2:0,3:0,7:1)
13 February 1949
Stockholm
Sweden
–
Czechoslovakia
4:2 (3:0,1:2,0:0)
14 February 1949
Stockholm
Czechoslovakia
–
Finland
19:2 (8:1,3:1,8:0)
Standings
| Pos. | Team | G.P. | Wins | Ties | Losses | Goals | Goal diff | Pts.. |
| --- | --- | --- | --- | --- | --- | --- | --- | --- |
| 1 | Sweden | 2 | 2 | 0 | 0 | 16: 3 | +13 | 4:0 |
| 2 | Czechoslovakia | 2 | 1 | 0 | 1 | 21: 6 | +15 | 2:2 |
| 3 | Finland | 2 | 0 | 0 | 2 | 3:31 | -28 | 0:4 |
Second round
Consolation round – places 7 to 10
17 February 1949
Stockholm
Belgium
–
Denmark
8:3 (2:1,4:2,2:0)
17 February 1949
Stockholm
Finland
–
Norway
7:3 (4:3,2:0,1:0)
18 February 1949
Stockholm
Finland
–
Belgium
17:2 (6:0,4:0,7:2)
18 February 1949
Stockholm
Norway
–
Denmark
Denmark withdrew
19 February 1949
Stockholm
Finland
–
Denmark
Denmark withdrew
19 February 1949
Stockholm
Norway
–
Belgium
14:1 (5:0,6:0,3:1)
Standings
| Pos. | Team | G.P. | Wins | Ties | Losses | Goals | Goal diff | Pts.. |
| --- | --- | --- | --- | --- | --- | --- | --- | --- |
| 1 | Finland | 3 | 3 | 0 | 0 | 24: 5 | +19 | 6:0 |
| 2 | Norway | 3 | 2 | 0 | 1 | 17: 8 | + 9 | 4:2 |
| 3 | Belgium | 3 | 1 | 0 | 2 | 11:34 | -23 | 2:4 |
| 4 | Denmark | 3 | 0 | 0 | 3 | 3: 8 | - 5 | 0:6 |
Medal round – places 1 to 6
15 February 1949
Stockholm
Canada
–
Czechoslovakia
2:3 (0:0,1:2,1:1)
15 February 1949
Stockholm
Sweden
–
Austria
18:0 (5:0,5:0,8:0)
15 February 1949
Stockholm
USA
–
Switzerland
4:5 (1:4,3:0,0:1)
16 February 1949
Stockholm
Czechoslovakia
–
Austria
7:1 (4:0,2:0,1:1)
16 February 1949
Stockholm
Sweden
–
Canada
2:2 (0:1,1:0,1:1)
17 February 1949
Stockholm
Canada
–
USA
7:2 (2:0,1:2,4:0)
17 February 1949
Stockholm
Sweden
–
Switzerland
3:1 (0:0,2:1,1:0)
18 February 1949
Stockholm
Czechoslovakia
–
Switzerland
8:1 (4:0,1:1,3:0)
18 February 1949
Stockholm
Canada
–
Austria
8:2 (3:0,3:1,2:1)
18 February 1949
Stockholm
Sweden
–
USA
3:6 (1:0,0:4,2:2)
19 February 1949
Stockholm
Switzerland
–
Austria
10:1 (4:0,3:1,3:0)
19 February 1949
Stockholm
USA
–
Czechoslovakia
2:0 (0:0,1:0,1:0)
20 February 1949
Stockholm
USA
–
Austria
9:1 (0:1,3:0,6:0)
20 February 1949
Stockholm
Sweden
–
Czechoslovakia
0:3 (0:0,0:2,0:1)
20 February 1949
Stockholm
Canada
–
Switzerland
1:1 (0:1,0:0,1:0)
Standings
| Pos. | Team | G.P. | Wins | Ties | Losses | Goals | Goal diff | Pts.. |
| --- | --- | --- | --- | --- | --- | --- | --- | --- |
| 1 | Czechoslovakia | 5 | 4 | 0 | 1 | 21: 6 | +15 | 8: 2 |
| 2 | Canada | 5 | 2 | 2 | 1 | 20:10 | +10 | 6: 4 |
| 3 | USA | 5 | 3 | 0 | 2 | 23:16 | + 7 | 6: 4 |
| 4 | Sweden | 5 | 2 | 1 | 2 | 26:12 | +14 | 5: 5 |
| 5 | Switzerland | 5 | 2 | 1 | 2 | 18:17 | + 1 | 5: 5 |
| 6 | Austria | 5 | 0 | 0 | 5 | 5:52 | -47 | 0:10 |
Final rankings – World Championships
World Championships 1949


Czechoslovakia
Team members
Pos.
Country
Members
1
CSR
Bohumil Modrý,

Josef Jirka

, Přemysl Hajný,

Oldřich Němec

,

Josef Trousilek

,

František Vacovský

,

Jiří Macelis

,

Václav Rozinák

, Miloslav Charouzd, Vladimír Zábrodský, Stanislav Konopásek, Vladimír Kobranov, Vladimír Bouzek, Gustav Bubník, Zdeněk Marek,

František Mizera

,

Čeněk Picka
Team Photos
Notes
Information based upon German version at http://de.wikipedia.org/wiki/Eishockey-Weltmeisterschaft_1949