The 1949–50 Chicago Black Hawks season was the team's 24th season in the National Hockey League. The Hawks finished last in the league and did not qualify for the playoffs.
Prior to the season, the NHL announced that they would be adding 10 games to the regular season schedule, raising it from 60 games to 70. Despite the extra games added, the Black Hawks would only win 1 more game than the previous season, and finish in last place in the NHL with 54 points, 13 behind the New York Rangers for the final playoff spot, missing the playoffs for the 4th straight season. The Hawks would score 203 goals, 2nd highest total in the league, but would allow a league high 244 goals.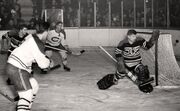 After the Detroit Red Wings clobbered Chicago 9-2 on February 8, writer Lew Walter tried to interview Chicago coach Charlie Conacher. Conacher exploded in anger, criticized Walter's past stories and punched Walter, knocking him down to the floor. Walter announced that he would seek a warrant for Conacher's arrest. NHL president Clarence Campbell took a dim view of Conacher's actions and fined him $200. Conacher then phoned Walter and apologized, saying he regretted what had taken place.
Offensively, the Hawks scoring was spread out, as 22 year old Metro Prystai led the Hawks with 29 goals, Doug Bentley had a team high 33 assists, and Roy Conacher had a club best 56 points. Bill Gadsby would be a force on the blueline, leading the way with 10 goals and 35 points, and having a team high 138 penalty minutes.
In goal, the Black Hawks would acquire long time Boston Bruins goaltender Frank Brimsek in the off-season, and he would play in all 70 games for the Hawks, winning 22 of them, earning 5 shutouts along the way, and posting a 3.49 GAA.
Note: GP = Games played, W = Wins, L = Losses, T = Ties, Pts = Points, GF = Goals for, GA = Goals against
Teams that qualified for the playoffs are highlighted in bold.
The Black Hawks did not qualify for the post season.
| | | | | | | | | |
| --- | --- | --- | --- | --- | --- | --- | --- | --- |
| Player | GP | TOI | W | L | T | GA | SO | GAA |
| Frank Brimsek | 70 | 4200 | 22 | 38 | 10 | 244 | 5 | 3.49 |
The Black Hawks did not win any awards this season.
National Hockey League Guide & Record Book 2007
Community content is available under
CC-BY-SA
unless otherwise noted.