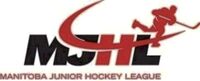 This is the 1945-46 Manitoba Junior Hockey League Season.
League Notes
Edit
Brandon Elks and Portage Terriers return to League.
St. James Canadians change name to St. James Orioles.
Winnipeg Esquires-Red Wings, St. Boniface Athletics, and CUAC Blues withdraw after dispute with MAHA.
League admitted Winnipeg Wellingtons.

League schedules 40 games, Portage and Brandon playing 16 games and the four city clubs playing 12.
A new point system was adopted. Every game the four Winnipeg clubs won, they will be credited with four points. Should Brandon or Portage triumph, they would only receive three points.
League suspends Brandon for use of unregistered players, takes win away.
League re-admits Brandon, revises schedule to 30 games, 10 per team.
Regular Season
Edit
Semi-Final
Monarchs defeated St. James 2-games-to-none
Brandon defeated Rangers 2-games-to-none
Manitoba Championship (Turnbull Cup)
Monarchs defeated Brandon 4-games-to-1
Memorial Cup Playoffs
Edit
Western Canada Semi-Final
Monarchs defeated Port Arthur Flyers (TBJHL) 4-games-to-1
Western Canada Championship (Abbott Cup)
Monarchs defeated Edmonton Canadians (EdmJHL) 4-games-to-1
see 1945-46 Western Canada Memorial Cup Playoffs
Canada Championship (Memorial Cup)
Monarchs defeated St Michaels College Majors (OHA) 4-games-to-3
see 1945-46 Memorial Cup Final
League Leaders
Edit
Scoring Leaders
Edit
Leading Goaltenders
Edit
Community content is available under
CC-BY-SA
unless otherwise noted.