The 1945–46 Toronto Maple Leafs season was Toronto's 29th season in the NHL. The Maple Leafs finished fifth in the league and missed the playoffs.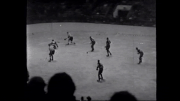 The Boston Bruins were part of a special home opener for the Toronto Maple Leafs on October 27, 1945. Six winners of the Victoria Cross were in attendance and the puck drop was conducted by "Smokey" Smith. Fittingly, the game ended in a 1-1 tie.
A news bombshell exploded on January 30, 1946 when Leafs defenceman Babe Pratt was expelled from the NHL for betting on games. However, he only bet on his own team and appealed his expulsion. On his promise he would not bet on any more games, he was reinstated. Pratt missed 9 games during his suspension.
Note: GP = Games played, W = Wins, L = Losses, T = Ties, Pts = Points, GF = Goals for, GA = Goals against
Teams that qualified for the playoffs are highlighted in bold.
The Maple Leafs did not qualify for the post season.
Scoring
Goaltending
Gaye Stewart, Left Wing, NHL First Team All-Star
Community content is available under
CC-BY-SA
unless otherwise noted.