The 1942–43 Chicago Black Hawks season was the team's 17th season in the National Hockey League. The Black Hawks finished in 5th place and did not qualify for the playoffs. The NHL would lose another team, as the Brooklyn Americans would fold, leaving the league with only 6 clubs. The league also increased its schedule from 48 games to 50. With World War II going on, every team in the league would lose some players to war service.
Regular Season
Black Hawks general manager Frederic McLaughlin, who had held the position since the team entered the league in 1926, retired before the season began, and Bill Tobin was hired to take over.
The Black Hawks finished just under .500, with a 17–18–15 record, good for 49 points and 5th place in the league, missing the playoffs for the first time in 4 years. Chicago scored a club record 179 goals, 4th highest in the league, however, they also allowed a team record 180 goals, the 3rd highest total in the league. Chicago had a very strong home record, going 14–3–8, but won only 3 road games, and missed the playoffs by a single point.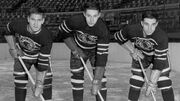 Doug Bentley became the first Black Hawk to lead the NHL in scoring, as he set team records in goals (33) and points (73). His younger brother Max Bentley set a team record with 44 assists, finished with 70 points and won the Lady Byng Trophy as he was only penalized for 2 penalty minutes for the season. Their brother Reg played 11 games during the season and the three briefly played together on the first all-brother line in NHL history. On January 3, 1943 against the New York Rangers, Reg scored his only NHL goal, assisted by Max and Doug, another NHL first.
Red Hamill had a strong season, scoring 28 goals. Earl Siebert once again led the defense, earning 32 points, a club high 48 penalty minutes and a First Team All-Star berth.
In goal, the Hawks acquired Bert Gardiner from the Montreal Canadiens before the season began, due to Sam LoPresti leaving the team to serve in the war, and Gardiner would win 17 games, post a 3.58 GAA and had a shutout.
Final Standings
Note: GP = Games played, W = Wins, L = Losses, T = Ties, Pts = Points, GF = Goals for, GA = Goals against
Teams that qualified for the playoffs are highlighted in bold.
Game Log
Playoffs
The Black Hawks did not qualify for the post season.
Player Stats
Scoring Leaders
Goaltending
| | | | | | | | | |
| --- | --- | --- | --- | --- | --- | --- | --- | --- |
| Player | GP | TOI | W | L | T | GA | SO | GAA |
| Bert Gardiner | 50 | 3020 | 17 | 18 | 15 | 180 | 1 | 3.58 |
Awards and Records
Doug Bentley, Left Wing, NHL First Team All-Star
Earl Seibert, Defense, NHL First Team All-Star
See Also
References
National Hockey League Guide & Record Book 2007