The 1940–41 New York Rangers season was the 15th season for the team in the National Hockey League (NHL). The Rangers finished 4th in the NHL with 50 points and lost in the Semi-finals to the Detroit Red Wings 2 games to 1.
Pre-season
[
]
The Rangers played a six game series against the New York Americans in western Canada:
Saturday, October 19 Rangers 5 Americans 2 @ Winnipeg
Tuesday, October 22 Americans 5 Rangers 2 @ Regina
Thursday, October 24 Rangers 7 Americans 1 @ Saskatoon
Saturday, October 26 Americans 4 Rangers 3 @ Regina
Monday, October 28 Americans 3 Rangers 2 @ Winnipeg
Wednesday, October 30 Rangers 5 Americans 3 @ Port Arthur
The series was split at 3 wins each.
Regular Season
[
]
Captain Art Coulter suffered a fractured right shoulder during the November 19, 1940 game against the New York Americans and missed 13 games.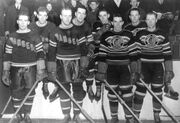 NHL history was made on December 1, 1940 in a game between the New York Rangers and Chicago Black Hawks as four sets of brothers played. Mac and Neil Colville, Lynn and Muzz Patrick, Max and Doug Bentley, Bill and Bob Carse all played as Chicago won 4-1. Max Bentley scored his first NHL goal and Doug Bentley picked up an assist, while Bill Carse also scored.
Final Standings
[
]
Note: GP = Games played, W = Wins, L = Losses, T = Ties, Pts = Points, GF = Goals for, GA = Goals against
Teams that qualified for the playoffs are highlighted in bold.
Game Log
[
]
Regular Season Results
No.
R
Date
Score
Opponent
Record
1
W
November 2, 1940
4–1
@ Toronto Maple Leafs (1940–41)
1–0–0
2
T
November 10, 1940
2–2 OT
@ Detroit Red Wings (1940–41)
1–0–1
3
T
November 16, 1940
3–3 OT
Detroit Red Wings (1940–41)
1–0–2
4
W
November 19, 1940
3–2
New York Americans (1940–41)
2–0–2
5
L
November 23, 1940
1–2
Boston Bruins (1940–41)
2–1–2
6
L
November 26, 1940
2–4
Toronto Maple Leafs (1940–41)
2–2–2
7
L
November 28, 1940
1–2
@ New York Americans (1940–41)
2–3–2
8
W
November 30, 1940
6–1
Montreal Canadiens (1940–41)
3–3–2
9
L
December 1, 1940
1–4
@ Chicago Black Hawks (1940–41)
3–4–2
10
W
December 5, 1940
3–2
@ Montreal Canadiens (1940–41)
4–4–2
11
L
December 8, 1940
1–3
Detroit Red Wings (1940–41)
4–5–2
12
L
December 10, 1940
2–6
@ Boston Bruins (1940–41)
4–6–2
13
L
December 13, 1940
2–3 OT
@ Detroit Red Wings (1940–41)
4–7–2
14
W
December 15, 1940
6–3
New York Americans (1940–41)
5–7–2
15
W
December 19, 1940
5–3
Boston Bruins (1940–41)
6–7–2
16
L
December 22, 1940
1–3 OT
@ Chicago Black Hawks (1940–41)
6–8–2
17
T
December 25, 1940
3–3 OT
Chicago Black Hawks (1940–41)
6–8–3
18
L
December 28, 1940
2–3
@ Toronto Maple Leafs (1940–41)
6–9–3
19
W
December 29, 1940
3–2
Toronto Maple Leafs (1940–41)
7–9–3
20
T
December 31, 1940
2–2 OT
@ Boston Bruins (1940–41)
7–9–4
21
L
January 1, 1941
1–2
Montreal Canadiens (1940–41)
7–10–4
22
T
January 4, 1941
3–3 OT
@ Montreal Canadiens (1940–41)
7–10–5
23
W
January 5, 1941
6–2
@ New York Americans (1940–41)
8–10–5
24
L
January 7, 1941
2–3
Chicago Black Hawks (1940–41)
8–11–5
25
L
January 9, 1941
2–3 OT
@ Toronto Maple Leafs (1940–41)
8–12–5
26
W
January 12, 1941
3–1
New York Americans (1940–41)
9–12–5
27
T
January 14, 1941
3–3 OT
Detroit Red Wings (1940–41)
9–12–6
28
T
January 16, 1941
2–2 OT
Boston Bruins (1940–41)
9–12–7
29
W
January 19, 1941
2–1
@ Detroit Red Wings (1940–41)
10–12–7
30
L
January 21, 1941
3–4 OT
@ Boston Bruins (1940–41)
10–13–7
31
L
January 26, 1941
1–4
@ Chicago Black Hawks (1940–41)
10–14–7
32
W
February 2, 1941
2–1
Montreal Canadiens (1940–41)
11–14–7
33
T
February 4, 1941
2–2 OT
@ New York Americans (1940–41)
11–14–8
34
W
February 6, 1941
6–2
Chicago Black Hawks (1940–41)
12–14–8
35
W
February 9, 1941
2–1
@ Chicago Black Hawks (1940–41)
13–14–8
36
L
February 11, 1941
2–6
@ Montreal Canadiens (1940–41)
13–15–8
37
L
February 13, 1941
3–5
Boston Bruins (1940–41)
13–16–8
38
L
February 15, 1941
3–4
@ Toronto Maple Leafs (1940–41)
13–17–8
39
L
February 16, 1941
1–4
Toronto Maple Leafs (1940–41)
13–18–8
40
W
February 18, 1941
5–2
@ New York Americans (1940–41)
14–18–8
41
W
February 23, 1941
4–1
Chicago Black Hawks (1940–41)
15–18–8
42
W
February 25, 1941
2–0
@ Boston Bruins (1940–41)
16–18–8
43
W
February 27, 1941
5–2
Montreal Canadiens (1940–41)
17–18–8
44
W
March 1, 1941
3–1
@ Montreal Canadiens (1940–41)
18–18–8
45
L
March 2, 1941
2–4 OT
@ Detroit Red Wings (1940–41)
18–19–8
46
W
March 4, 1941
6–0
Detroit Red Wings (1940–41)
19–19–8
47
W
March 9, 1941
8–5
Toronto Maple Leafs (1940–41)
20–19–8
48
W
March 16, 1941
6–3
New York Americans (1940–41)
21–19–8
Playoffs
[
]
Detroit Red Wings 2, New York Rangers 1
[
]
Player Stats
[
]
Regular Season
[
]
Scoring
Goaltending
| Player | MIN | GP | W | L | T | GA | GAA | SO |
| --- | --- | --- | --- | --- | --- | --- | --- | --- |
| Dave Kerr | 3010 | 48 | 21 | 19 | 8 | 125 | 2.49 | 2 |
| Team: | 3010 | 48 | 21 | 19 | 8 | 125 | 2.49 | 2 |
Playoffs
[
]
Scoring
Goaltending
| Player | MIN | GP | W | L | GA | GAA | SO |
| --- | --- | --- | --- | --- | --- | --- | --- |
| Dave Kerr | 192 | 3 | 1 | 2 | 6 | 1.88 | 0 |
| Team: | 192 | 3 | 1 | 2 | 6 | 1.88 | 0 |
Note: Pos = Position; GP = Games played; G = Goals; A = Assists; Pts = Points; PIM = Penalty minutes; PPG = Power-play goals; SHG = Short-handed goals; GWG = Game-winning goals
MIN = Minutes played; W = Wins; L = Losses; T = Ties; GA = Goals-against; GAA = Goals-against average; SO = Shutouts
Awards and Records
[
]
Gallery
[
]
See Also
[
]
References
[
]