The 1940–41 Montreal Canadiens season was the 32nd season in club history. The Canadiens finished 6th in the league and lost in the Quarter-finals to the Chicago Black Hawks 2 games to 1.
Off-season
The Montreal Canadiens had hit the bottom in 1939-40, and were in financial trouble. Frank Patrick decided to become an investor and governor for the team, and Tommy Gorman was hired as general manager. He hired recently released Toronto coach Dick Irvin to run the team. One of the first things Gorman and Irvin did was scout for players, and the Canadiens came up with Johnny Quilty, Joe Benoit, Elmer Lach and defenceman Ken Reardon. Bert Gardiner would be used in goal, replacing Claude Bourque and Wilf Cude. Murph Chamberlain was bought from Toronto to bolster the offence.
Regular Season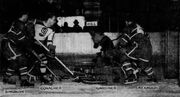 Opening night was on November 3, 1940 against the Boston Bruins. The game was hard fought and after Toe Blake put the Habs up 1-0, Milt Schmidt rounded the Canadiens net and jammed a shot in off goalie Bert Gardiner's back to tie the score. Herb Cain hit the post in the last frame and the game ended 1-1. Habs coach Dick Irvin commented that he'd never seen a team in such good shape as the Bruins. [1]
Quilty and Benoit came through, as did Toe Blake, but the Habs had a long way to go, finishing sixth. Quilty won the Calder Memorial Trophy as the league's top rookie. In fact, before the season started, Coach Irvin handed a sealed envelope to a reporter of his guess who would win the Calder Trophy, and when the season ended, the reporter opened the envelope: Johnny Quilty was the choice Irvin made.
Final Standings
Note: GP = Games played, W = Wins, L = Losses, T = Ties, Pts = Points, GF = Goals for, GA = Goals against
Teams that qualified for the playoffs are highlighted in bold.
Game Log
Regular Season Results
No.
R
Date
Score
Opponent
Record
1
T
November 3, 1940
1–1 OT
Boston Bruins (1940–41)
0–0–1
2
L
November 10, 1940
1–3
Chicago Black Hawks (1940–41)
0–1–1
3
L
November 14, 1940
2–6
Toronto Maple Leafs (1940–41)
0–2–1
4
L
November 16, 1940
2–4
@ Toronto Maple Leafs (1940–41)
0–3–1
5
T
November 17, 1940
4–4 OT
@ Chicago Black Hawks (1940–41)
0–3–2
6
L
November 21, 1940
1–2
@ Detroit Red Wings (1940–41)
0–4–2
7
W
November 23, 1940
3–1
New York Americans (1940–41)
1–4–2
8
L
November 24, 1940
1–2
@ New York Americans (1940–41)
1–5–2
9
W
November 26, 1940
3–2
@ Boston Bruins (1940–41)
2–5–2
10
L
November 30, 1940
1–6
@ New York Rangers (1940–41)
2–6–2
11
L
December 5, 1940
2–3
New York Rangers (1940–41)
2–7–2
12
W
December 7, 1940
3–2
Detroit Red Wings (1940–41)
3–7–2
13
L
December 12, 1940
3–4
@ Toronto Maple Leafs (1940–41)
3–8–2
14
W
December 15, 1940
2–1 OT
@ Detroit Red Wings (1940–41)
4–8–2
15
L
December 19, 1940
0–2
@ Chicago Black Hawks (1940–41)
4–9–2
16
W
December 21, 1940
3–1
Boston Bruins (1940–41)
5–9–2
17
W
December 26, 1940
7–5
Chicago Black Hawks (1940–41)
6–9–2
18
W
December 28, 1940
3–0
New York Americans (1940–41)
7–9–2
19
L
December 31, 1940
2–4
@ New York Americans (1940–41)
7–10–2
20
W
January 1, 1941
2–1
@ New York Rangers (1940–41)
8–10–2
21
T
January 4, 1941
3–3 OT
New York Rangers (1940–41)
8–10–3
22
L
January 5, 1941
0–3
@ Detroit Red Wings (1940–41)
8–11–3
23
L
January 7, 1941
3–4 OT
Toronto Maple Leafs (1940–41)
8–12–3
24
L
January 9, 1941
1–3 OT
@ Chicago Black Hawks (1940–41)
8–13–3
25
L
January 11, 1941
1–2
Boston Bruins (1940–41)
8–14–3
26
L
January 12, 1941
5–7
@ Boston Bruins (1940–41)
8–15–3
27
W
January 16, 1941
5–1
Chicago Black Hawks (1940–41)
9–15–3
28
W
January 18, 1941
2–1
Detroit Red Wings (1940–41)
10–15–3
29
L
January 23, 1941
2–3
Toronto Maple Leafs (1940–41)
10–16–3
30
T
January 25, 1941
2–2 OT
@ Toronto Maple Leafs (1940–41)
10–16–4
31
L
February 2, 1941
1–2
@ New York Rangers (1940–41)
10–17–4
32
L
February 4, 1941
3–5 OT
@ Boston Bruins (1940–41)
10–18–4
33
T
February 6, 1941
4–4 OT
Detroit Red Wings (1940–41)
10–18–5
34
T
February 8, 1941
3–3 OT
New York Americans (1940–41)
10–18–6
35
L
February 9, 1941
3–6 OT
@ New York Americans (1940–41)
10–19–6
36
W
February 11, 1941
6–2
New York Rangers (1940–41)
11–19–6
37
W
February 13, 1941
6–5
@ Chicago Black Hawks (1940–41)
12–19–6
38
L
February 15, 1941
0–5
Boston Bruins (1940–41)
12–20–6
39
L
February 16, 1941
1–2
@ Detroit Red Wings (1940–41)
12–21–6
40
L
February 20, 1941
1–2
@ Toronto Maple Leafs (1940–41)
12–22–6
41
W
February 22, 1941
7–3
Chicago Black Hawks (1940–41)
13–22–6
42
L
February 27, 1941
2–5
@ New York Rangers (1940–41)
13–23–6
43
L
March 1, 1941
1–3
New York Rangers (1940–41)
13–24–6
44
W
March 2, 1941
3–2
@ New York Americans (1940–41)
14–24–6
45
W
March 6, 1941
4–3
Toronto Maple Leafs (1940–41)
15–24–6
46
L
March 8, 1941
0–4
Detroit Red Wings (1940–41)
15–25–6
47
L
March 9, 1941
0–8
@ Boston Bruins (1940–41)
15–26–6
48
W
March 15, 1941
6–0
New York Americans (1940–41)
16–26–6
Playoffs
Chicago Black Hawks 2, Montreal Canadiens 1
Best of 3
Player Stats
Regular Season
Scoring
Goaltending
Playoffs
Scoring
Goaltending
| Player | MIN | GP | W | L | GA | GAA | SO |
| --- | --- | --- | --- | --- | --- | --- | --- |
| Bert Gardiner | 214 | 3 | 1 | 2 | 8 | 2.24 | 0 |
| Team: | 214 | 3 | 1 | 2 | 8 | 2.24 | 0 |
Note: GP = Games played; G = Goals; A = Assists; Pts = Points; +/- = Plus/Minus; PIM = Penalty Minutes; PPG=Power-play goals; SHG=Short-handed goals; GWG=Game-winning goals
MIN=Minutes played; W = Wins; L = Losses; T = Ties; GA = Goals Against; GAA = Goals Against Average; SO = Shutouts
Awards and Records
Gallery
See Also
References