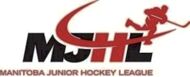 This is the 1934-35 Manitoba Junior Hockey League Season.
Forword
The MJHL was run & controlled by the Manitoba Amateur Hockey Association.
Realistically, the League was actually two leagues under one umbrella.
Convener of Junior Hockey: Vic Johnson
University of Manitoba transferred to "A" Division.
St. John's Senators became the Winnipeg Rangers.
St. Boniface Seals added to "B" Division.

---
---
---
48 games, Kenora & Portage 20 each, 2 away and 2 at home, against other divisional teams.
The four city based clubs to play 14 games each. Besides 4 X each against Kenora & Portage, a home and home with other city teams. Games between city based clubs worth 4 points. No inter locking games.

MAHA cancels balance of season after Winnipeg Monarchs & Kenora Thistles clinched the only 2 playoff spots.
And an investigation into the eligiblity of Willie Troniak of the Kenora Thistles was concluded.
Division Final

Monarchs defeated Kenora 2-games-to-none
see "A" Division Games
---
---
---
24 games, 12 per team. Each team plays other divisional teams 4 X. No inter locking games.
Division Final
Elmwood defeated Kildonan 2-games-to-none
see B Division Games
---
---
---
Contrary to expectations, "B" Division All-Stars triumphed over a select team from "A" Division, 6 to 2 on Wednesday night, March 13, at the Olympic Rink. Harvey Palmatier of the Elmwood Maple Leafs was the big gun, scoring three.
see 1935 MJHL All-Star Game
Western Memorial Cup Semi-Final

Monarchs defeated Port Arthur Juniors (TBJHL) 2-games-to-none

Western Memorial Cup Final (Abbott Cup)

Monarchs defeated Saskatoon Wesleys (SAHA) 2-games-to-1

Memorial Cup Championship

Monarchs defeated Sudbury Cub Wolves (NOHA) 2-games-to-1
Winnipeg Monarchs won the Memorial Cup
Community content is available under
CC-BY-SA
unless otherwise noted.