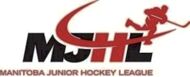 This is the 1933-34 Manitoba Junior Hockey League Season.
Forword
The MJHL was run & controlled by the Manitoba Amateur Hockey Association.
Realistically, the League was actually two leagues under one umbrella.
Convener of Junior Hockey: Vic Johnson
League renamed Manitoba Junior Hockey League.
Portage Terriers, Selkirk Fishermen, and Winnipeg Falcons transferred to "A" Division.
Columbus Club and University of Manitoba transferred to "B" Division.
St. John's College and Elmwood Maple Leafs added to "B" Division.
Winnipegs and Columbus Club merger not approved, both withdrew from junior hockey.
Kildonan Stars added to "B" Division.


40 games, 16 per team. Each team plays other divisional teams 4 X. No inter locking games.
With suspensions of Bryan Hextall of Portage and Allan Lindstrom of Kenora, both founded to be overage, the MAHA expanded the playoffs. Normally only the top 2 playoff, this year all teams were involved. Hextall and Lindstrom, along with a third player Ben Federowich of the Falcons, were suspended one year for tampered birth certificates. Federowich's was used the previous season in Juvenile, he was still eligible to play junior.
Division Qualifier
Monarchs defeated Falcons 1-0
Division Semi-Finals
Kenora defeated Monarchs 12-goals-to-5
Selkirk defeated Portage 8-goals-to-none
Division Final
Kenora defeated Selkirk 2-games-to-1
see "A" Division Games
24 games, 12 per team. Each team plays other divisional teams 4 X. No inter locking games.
Division Final
University of Manitoba defeated Elmwood 2-games-to-none
see "B" Division Games
#1
Saturday, March 10
Kenora
3
Varsity
1
@ Amphitheatre
#2
Tuesday, March 13
Kenora
2
Varsity
3
@ Olympic Rink
#3
Wednesday, March 14
Kenora
4
Varsity
4
@ Amphitheatre
#4
Friday, March 16
Kenora
6
Varsity
0
@ Amphitheatre
Kenora Thistles defeated University of Manitoba 2-games-to-1, with 1 game tied
Western Memorial Cup Semi-Final

Kenora lost to Port Arthur West End (TBJHL) 9-goals-to-8
see 1933-34 Western Canada Memorial Cup Playoffs
Community content is available under
CC-BY-SA
unless otherwise noted.