The 1933–34 NHL season was the 17th season of the National Hockey League (NHL). Nine teams each played 48 games. The Chicago Black Hawks were the Stanley Cup winners as they beat the Detroit Red Wings three games to one.
Ace Bailey Benefit All-Star Game
[
edit
|
edit source
]
On February 14, 1934, the first NHL All-Star Game, albeit an unofficial one, was held to benefit Toronto Maple Leafs forward Ace Bailey, who suffered a career-ending injury. On December 12, 1933, near the end of the second period of a game between the Leafs and the Boston Bruins in the Boston Garden, Bailey was tripped from behind by Bruins defenceman Eddie Shore, in retaliation for a check that Toronto defenceman King Clancy had delivered to Shore. Bailey was not the intended target of the check; Shore wanted to hit Clancy instead. Bailey was badly hurt, unconscious and bleeding. The Leafs' Red Horner took offence to the hit, and subsequently knocked out Shore with a punch. Shore was forgiven after the game when both players regained consciousness, with Bailey saying that it was "all part of the game." However, Bailey would pass out and lapse into convulsions.
Bailey was not expected to live after a single night in the hospital after suffering from severe hemorrhaging. It was made well-known that Shore would have been charged with manslaughter were Bailey to die. Fortunately, he gradually recovered, but his hockey career was over. For his actions, Shore received a 16-game suspension, a third of the 48-game schedule of the time, while Horner was suspended for the remainder of 1933.
The game itself was proposed by Walter Gilhooley, the sports editor of the Journal in Montreal. This proposal would become a reality on January 24, 1934, in a meeting of the NHL's Board of Governors in 1934.
The NHL's first All-Star Game was held at Maple Leaf Gardens in Toronto, during which Bailey's #6 uniform was retired by the Leafs. It was the first number to be retired in the NHL. The game saw the Leafs battle against an All-Star team made of players from the other seven teams, which the Leafs won 7–3. One of the more memorable moments before the game was when Bailey presented Shore with his All-Star jersey, showing to the public that Bailey had clearly forgiven him for his actions. Bailey also presented a trophy to NHL President Frank Calder before a game in the hope that the trophy would go to the winner of an annual All-Star Game for the benefit of injured players.
| Toronto Maple Leafs (7) | All-Stars (3) |
| --- | --- |
| | |
Source: Podnieks, Andrew (2000). The NHL All-Star Game: 50 years of the great tradition. Toronto: HarperCollins, 5–10. ISBN 000200058X. 
The Ottawa Senators, having enough problems, now had to deal with holdout Cooney Weiland. He was sold to Detroit, strengthening the Red Wings. The Senators continued to lose, but won a few games when they signed an amateur named Max Kaminsky to centre the Roche brothers Desse and Earl. A defenceman, Ralph "Scotty" Bowman, gave Ottawa fans a little to cheer about. But the writing was on the wall, and in the last NHL game to be played in Ottawa for many years, on March 15, 1934, the Senators let the New York Americans use goaltender Alec Connell when Roy Worters was hurt. He helped the Americans beat his club 3-2.
A major trade was a swap of goaltenders as Lorne Chabot was traded to the Montreal Canadiens for George Hainsworth.
On December 14, 1933, Detroit Red Wings goalie John Ross Roach was injured near the end of the second period of the Red Wings game versus the Chicago Black Hawks. Defenseman Doug Young filled in for the rest of the game and only allowed one goal but the Red Wings lost 4-0. The Canadiens loaned Wilf Cude to Detroit and he led the Red Wings to first place. Chabot didn't do badly either, leading the Canadian Division in goaltending, helping the goal-strapped Canadiens to second place. Aurel Joliat of the Canadiens won the Hart Memorial Trophy.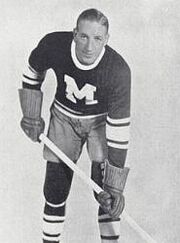 In another move to save money via a salary dump, the Montreal Maroons traded defenseman Lionel Conacher to the Chicago Black Hawks for Ted Graham on October 1, 1933. Conacher ended up being Chicago's top scoring defenseman in the 1933-34 season, a First Team All-Star and won the 1934 Stanley Cup.
Mired in fourth place with a 4-9-4 record and out of a playoff spot, the Maroons called up Russ Blinco from the minors and Herb Cain was signed from junior. Both made their NHL debuts on December 30, 1933 as the Maroons played to a 2-2 tie against their cross-town rivals, the Montreal Canadiens. Their addition to the line-up turned the Maroons season around as they went 15-9-7 for the rest of the schedule and finished in third place, making the post season. Russ Blinco was awarded the Calder Memorial Trophy after scoring 23 points in 31 games.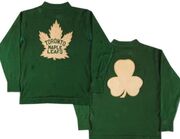 On March 17, 1934, the Toronto Maple Leafs played the New York Rangers and celebrated St. Patrick's Day by declaring it "King Clancy Night." Clancy wore a special green Maple Leafs jersey complete with a shamrock on the back instead of a number. Green pants, socks and stick completed the uniform. Rangers GM/coach Lester Patrick was aghast at Clancy's attire and convinced him to wear his regular Leafs uniform after the first period.
Note: GP = Games played, W = Wins, L = Losses, T = Ties, Pts = Points, GF = Goals for, GA = Goals against, PIM = Penalties in minutes
Note: Teams that qualified for the playoffs are highlighted in bold
Note: GP = Games played, G = Goals, A = Assists, PTS = Points, PIM = Penalties in minutes
The Chicago Black Hawks beat the Detroit Red Wings three games to one with the fourth game going into double overtime. After regulation time in the fourth game, Black Hawks star goaltender and two-time Vezina Trophy winner, Charlie Gardiner, left the game because he wasn't feeling well. He died two months later of a brain hemorrhage.
Detroit-Toronto April 1934 Tour of Western Canada
[
edit
|
edit source
]
The Detroit Red Wings and Toronto Maple Leafs played a six game charity exhibition tour of Western Canada sponsored by the Gyro Club. The Leafs Joe Primeau didn't participate. The series was a high scoring affair with Toronto winning three games and Detroit two with one tie. Charlie Conacher led the tour in scoring with 10 goals and 16 points while Larry Aurie was second with 9 goals and 14 points.
April 14, 1934: Toronto 12, Detroit 8 @ Winnipeg, Manitoba
April 16, 1934: Detroit 9 Toronto 8 (OT) @ Winnipeg
April 18, 1934: Toronto 8, Detroit 5 @ Trail, B.C.
April 21, 1934: Toronto 5, Detroit 5 (OT) @ Vancouver, B.C.
April 23, 1934: Detroit 8 Toronto 4 @ Vancouver
April 26, 1934: Toronto 7, Detroit 5 @ Vancouver
| First Team |   Position   | Second Team |
| --- | --- | --- |
| Charlie Gardiner, Chicago Black Hawks | G | Roy Worters, New York Americans |
| King Clancy, Toronto Maple Leafs | D | Eddie Shore, Boston Bruins |
| Lionel Conacher, Chicago Black Hawks | D | Ching Johnson, New York Rangers |
| Frank Boucher, New York Rangers | C | Joe Primeau, Toronto Maple Leafs |
| Charlie Conacher, Toronto Maple Leafs | RW | Bill Cook, New York Rangers |
| Busher Jackson, Toronto Maple Leafs | LW | Aurel Joliat, Montreal Canadiens |
| Lester Patrick, New York Rangers | Coach | Dick Irvin, Toronto Maple Leafs |
The following is a list of players of note who played their first NHL game in 1933–34 (listed with their first team, asterisk(*) marks debut in playoffs):
The following is a list of players of note that played their last game in the NHL in 1933–34 (listed with their last team):

cs:NHL 1933/1934 de:NHL 1933/34 hr:NHL 1933./34. pl:NHL (1933/1934) ru:НХЛ в сезоне 1933-1934 simple:1933-34 NHL season fi:NHL-kausi 1933–1934 sv:National Hockey League 1933/1934
Community content is available under
CC-BY-SA
unless otherwise noted.