This was the 1924-25 season of the Eastern Canada Hockey League:
The Quebec Amateur Hockey Association (QAHA) was annoyed by the fact that its senior champion was consistently beaten by the Ontario Hockey Association's champion in the Allan Cup playoffs. In order to improve Quebec's chamces the number of senior teams in the province was reduced. The Quebec City & District League and the Montreal City Hockey League were both disbanded and the Eastern Canada League was made the only senior league. The QAHA also eliminated the ban on players from Bankers and Commercial league teams to play senior.
The Montreal AAA was turned down by the league when it applied for a franchise. They attempted to form a rival league with Montreal St Francois Xavier and teams from Brockville and Cornwall. It was not successful.
The Montreal Victorias, acnowledged as the strongest team, wanted to get out of a contract they had with the Mount Royal Arena in order to play with the rest of the league at the brand-new Montreal Forum. The arena turned down the Victorias' offer of $2000.00. This threatened the existence of the league, since the other teams threatened to drop out if the Victorias were not in. Finally the arena gave in and the way was clear for the league to play all its games at the Forum.
On January 21, the league was renamed the Senior Group of the Quebec Amateur Hockey Association. It operated under that name in the following season.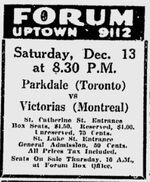 The Montreal Victorias were celebrating the 50th anniversary of their 1874 formation. They invited the Toronto's Parkdale Canoe Club, playing in the 1924-25 OHA Senior Season, to play an exhibition game on December 13th at the Forum.
The game ended in a 2-2 tie before about 3500 spectators. Harry Watson scored both Parkdale goals.
2 games total goals
| Date | Winner | Loser | Location |
| --- | --- | --- | --- |
| February 25 | Trois Rivieres 4 | Quebec 2 | Trois Rivieres |
| February 27 | Quebec 8 | Trois Rivieres 5 | Quebec City |
Quebec Sons of Ireland beat Trois Rivieres 10 goals to 9.
2 games total goals
| Date | Winner | Loser | Location |
| --- | --- | --- | --- |
| March 2 | Montreal 2 | Quebec 2 | Quebec City |
| March 5 | Montreal 2 | Quebec 1 | Montreal |
Montreal Victorias beat Quebec Sons of Ireland 4 goals to 3.
Since there were no other senior leagues in the province, the Montreal Victorias advanced to the 1924-25 Eastern Canada Allan Cup Playoffs.
Community content is available under
CC-BY-SA
unless otherwise noted.