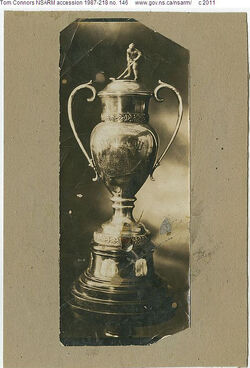 History
This was the first attempt at determining a Maritimes Senior Champion.
Morton and Thomson, the owners of the arena in Halifax, donated a trophy in late February to the Halifax City League. The Morton-Thomson Cup would be awarded to this league's Champion and then could be challenged for by other Maritimes teams.
Playoffs were hurriedly set up to determine champions in New Brunswick and the rest of Nova Scotia. However the lateness of the season and warm weather (there was no artificial ice available) caused the City League champion Wanderers to refuse to play any further. The City League's final actually had to be played in New Glasgow on March 23 because of the lack of ice in Halifax.
Halifax City League
Standings
Playoffs
Halifax Crescents drew a bye.
Semi final (sudden death): Wanderers 2 Dalhousie 1
Final (sudden death): Wanderers 1 Crescents 0
See Also