The 1911-12 Quebec Bulldogs season was the 2nd season of the team.
The team would add Odie Cleghorn in a dispersal draft from the Renfrew Creamery Kings prior to the start of the season.
Stanley Cup Champions
[
]
On March 2, Quebec defeated Ottawa 6–5 in a game decided after 23 minutes of overtime. With four seconds to play, Joe Malone scored to tie the game. Joe Hall scored the winning goal. Ottawa would now have to play the replay game against the Wanderers in Montreal. On March 5, Ottawa lost the replay, and the loss would cost them a tie of the league championship, as Quebec finished 10–8 and Ottawa would finish 9–9.
With winning the league championship, the team took possession of the Stanley Cup from the Ottawa Hockey Club as the Cup could change hands if the defending Cup champion didn't win their league championship.
The team would defend the Stanley Cup in a challenge from the Moncton Victorias in a best-of-three series with games played on March 11 and 13 and sweeping the series two-games-to-nobe by scores of 9-3 and 8-0 respectively.
Team standings
[
]
Results
[
]
Month
Day
Visitor
Score
Home
Score
Dec.
30
Wanderers
9
Quebec
5
Jan.
3
Quebec
4
Ottawa
5
6
Canadiens
5
Quebec
4
10
Ottawa
4
Quebec
6
17
Quebec
5
Wanderers
4
20
Quebec
2
Ottawa
5
24
Canadiens
2
Quebec
4
27
Quebec
3
Canadiens
5
31
Ottawa
4
Quebec
5
Feb.
3
Wanderers
2
Quebec
7
7
Quebec
6
Wanderers
7
9
Canadiens
2
Quebec
5
14
Quebec
2
Canadiens
1
18
Quebec
6
Wanderers
9
21
Ottawa
3
Quebec
6
25
Wanderers
1
Quebec
2
28
Quebec
3
Canadiens
6
Mar.
2
Quebec
6
Ottawa
5 (23'50" overtime)
Quebec Bulldogs 1912 Stanley Cup Champions
[
]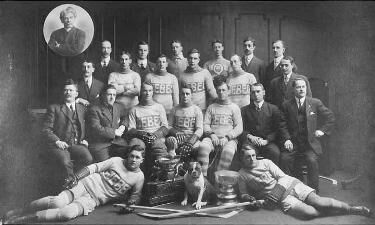 Roster
  Wingers
Georges Leonard

Jack MacDonald

† missing from team picture

  Non-players
Philliips A. Croquette (President),

Mike J. Quinn

(Vice President/Manager),
Charlie Nolan (Coach), Dave Beland (Trainer)
J .Eugene Matte (Treasurer), Barney J. Kaine (Secretary),
Louis Caqueux, Arthure Dermore, Charles Fremont (Directors),
Fred Hill, J. Camelien Lockwell, Thomas B. O'Neil (Directors),